CATFISH AND THE BOTTLEMEN is a high-energy four-piece who deliver live and have proven to be solid recording artists. We meet them in Manchester's Zoo and are immediately impressed by their politeness and charm. They ooze a confidence and sex appeal that has been much talked about, with lead singer Van McCann carrying a natural charisma rarely seen. They know what they want and they're planning on getting it.
We have a good chat with Van (yes, named after Van Morrison) who talks with passion about his love of music and his hopes for the band. He's a massive advocate of 'feeling' the music which could explain the depth and rawness of their songs and lyrics. We then pop outside for our photographer SINEAD MARIE to shoot some memorable portraits of Van, Billy, Benji and Bob.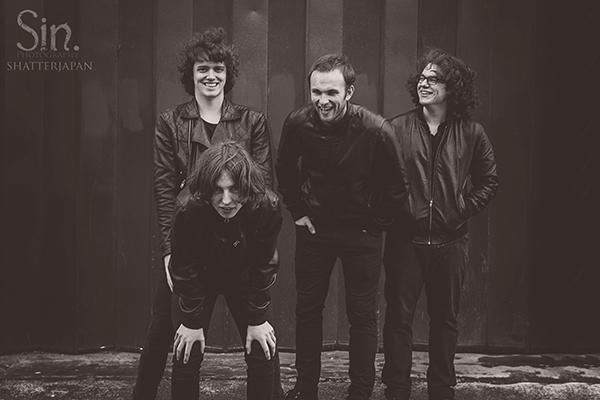 We're excited to see these guys live, and they've gathered a good crowd. As the tight four-piece take to the stage with gusto, more Dot2Dot festival goers leave their comfy table seats to check out who is making it impossible for them to zone out.
The band are at home on stage and, having just got off the ferry from Ireland, seem relieved to be in Manchester. They've had a bit of a rough time of it so far, as Van tells us how somebody nicked their number plate, broke it in half and left it on the windscreen – nice. He's also got a sore throat, apologizing to the crowds for being a bit hoarse, but he sounds alright to us – he has a natural rasp and growl in his voice, making the vocals more defined and the songs more intense.
As we get into the third track, the stage lights are final properly turned on (they've been pretty much in the dark until this point) and the band and fans (and photographers) are grateful to see Catfish in their full glory. Serious hairshaking ensues and it's a great gig and atmosphere all round.
This band are fresh and edgy, and there's a sincere and passionate brilliance in their sound that is rarely heard these days. We predict that they will continue to produce standout tracks and performances, and we can't wait to see what happens next. Britain – are you ready to embrace Catfish and the Bottlemen?
>> BACKSTAGE PHOTOS FULL GALLERY HERE >>