It's International Women's Day, and what better way to celebrate than to witness one of the world's best living all-female bands smash a stage. Here at the sold-out Manchester Academy, the room is packed to the rafters with many a HAIM fan, as drummer Dash Hutton finally gets the show on the road after a lengthy wait.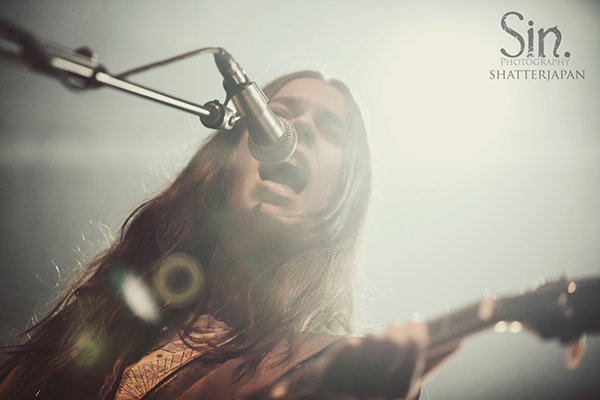 The storming intro matches impassioned screams from the crowd as sisters in music and real life, Danielle, Alana and Este take to their positions. Guitar strips around necks, it's business as usual, as the trio prepare to raise the roof with one of the most blinding sets this famed venue has ever seen.
Smartphones at the ready, the most die-hard fans throw themselves into some serious singing along. The band return the favour by lining the front of stage to serenade their adoring fans with opener Falling. Poppy track If I Could Change Your Mind gets the crowds going, while Fleetwood Mac cover Oh Well drives the crowds completely insane with some absolutely sublime guitar riffs.
Este wastes no time getting energised, as she tosses a drumstick into the crowd and raises her hands in the air, clapping, pogoing and grinning from ear to ear. Mild hysteria as piercing screams resonate round the room every time Danielle breaks into a guitar solo (and believe me, they are justified screams of awe), reminding me that this band has a very loyal female following. Alana multitasks on the keys, drum, percussion and guitar – it's a masterclass in versatility just watching her move seamlessly from instrument to instrument.
The synchronicity of the Haim sisters onstage is a sight to behold, each one taking turns to showcase their incredible instrumental capability, but also Danielle's vocals are honey melting on the ears, her quiet charisma making for an excellent front person. Spectacularly in the encore, for Beyonce cover XO, the stage lights come up to reveal Danielle on the drum podium pounding on the kit like there's no tomorrow, spotlit and showing herself to be more than just a one-trick pony. This is a front-singer who does oh so much more than just sing, lest we forget.
And just when we think we can't be blown away more, the trio enter into an outstanding show of drumming as all three take to drums for Let Me Go, leaving jaws dropping.
But, aside from their technical mastery and tight songwriting, what I love about this band live is their casual California manner and casual rapport with the audience. They have a way of projecting their onstage electricity across the entire venue, a talent that not every band naturally possesses, no matter how established. Everyone wants to hang out with Haim…
Putting out one of the most listenable debut albums of last year, Days Are Gone, and issuing some of the slickest (and sometimes giggle-worthy) videos, though the Haim girls claim that it took them a long while to get where they're at and that they're still finding their feet in their music, I'd argue that this is a very good start and the music industry is far better for having them in it now.