July in Japan each year sees thousands of avid music-goers making the pilgrimage to the mountains of Yuzawa, Niigata, in the country's centre, to take part in its biggest outdoor music event, FUJI ROCK FESTIVAL. This year, from Friday 26 to Sunday 28 July, a total of 226 artists are set to bestow their talents upon fans at the 3-day extravaganza, which boasts the likes of BJÖRK, NIN and THE CURE as headliners. 2013 will be Bjork's third time playing Fuji Rock, her first time being only the second year of the event in 1998 and first successful execution of the burgeoning festival.
Spread over 13 stages this year, we'll be enjoying the musical delights of TORO Y MOI, THE XX, MY BLOODY VALENTINE, AIMEE MANN, FLYING LOTUS, CAT POWER, CHARA, and BO NINGEN, to name but a few.
Fuji Rock has been running since 1997, when a disastrous virgin event at the base of Mt. Fuji resulted in the festival being moved to the more appropriate environment of Yuzawa, however maintaining the same event name. Now nestled amongst the picturesque mountains often shrouded in mist, laced with dense rainforest and clear streams, the event's location provides the foundation for a truly unforgettable festival experience. Last year, an impressive 140,000 fans enjoyed uncharacteristically pleasant and largely dry weather, up from the average of about 120,000 people.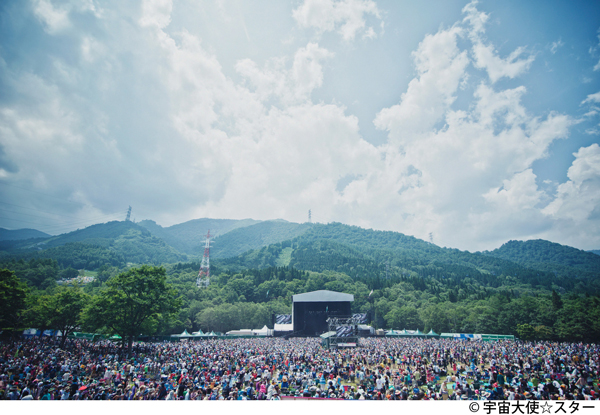 The festival is renowned worldwide for being remarkably clean and host to conscientious crowds, and this combined with the location and consistently enticing lineups renders this festival a must-attend event. This year is no exception, and SHATTERJAPAN will be reporting and posting live updates on from this year's festival on Twitter and Facebook as well as post-festival reports and photos on our website.
May this monumental festival begin!!