ALUNAGEORGE is on the rise. We were curious to see if they lived up to the recorded quality we were fast becoming familiar with. The Garage pit is packed with close to 25 photographers, and we're made to wait for a long time as set up takes place.
The set starts off with a few hitches, but things resolve quickly. Singer Aluna Francis looks stunning as she emerges in long white jacket, black hotpants and fabulous earrings. And she's terribly tiny. The crowd buzz is relatively quiet until we get to the popular "Attracting Flies" – surely their best song to date, with an amazing intro and fantastically edgy video to boot. Stripping the jacket to reveal a silver top, she mounts the monitor and begins her somewhat tentative engagement with the crowds.
The highlight is actually not one of their songs, it's a very good cover of classic "This is How We Do It." The crowds are partying now. There's minimal chitchat and Aluna seems nervous and slightly awkward onstage, mostly dancing happily on her own without much interaction with the crowds. It's another telltale sign of a band who have fast risen up the ranks without enough warm up in terms of how to build gig atmosphere. And the drummer looks miserable throughout… so possibly they were just having a rough day what with their intense festival schedule this year.
Liverpool-born JETTA has a storming voice, recorded and live. Running directly before ALUNAGEORGE, she has a job on her hands to warm up the Garage crowds and does an excellent job. I love her debut single "Start a Riot" which is one of the best written UK tracks of the year – it has edge, innovation, and her voice is one of the most distinctive set of new pipes out there. A ready-made music star, and criminally undersold at LIVERPOOL SOUND CITY, we want to see more of Jetta and her natural energy. She has a lovely smile too.
FINDLAY is Stockport's very own Natalie Findlay and Co. After releasing a rather steamy video for catchy track "Your Sister" and some standout gigs, word has spread and the band delivered one of the most energetic sets at this year's LIVERPOOL SOUND CITY.
Like a wild animal stalking its prey, Natalie struts around the Art Academy stage with attitude. Teasing the crowds with her wild hairshakes and massive vocals, she keeps her band closely in check, the three fellas hanging back obediently, and she's looming over the photographers as if she's about to pounce on top of them. Although the tracks did start blending into one and I would have preferred to see more crowd interaction, the brilliantly theatrical performance, vigorous headbanging and roars from the crowd mark this band off as one to watch for the future.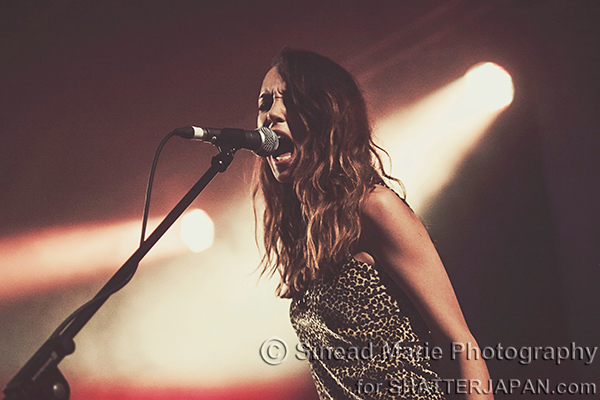 London teen CHLOE HOWL is causing a stir – a quiet one, but a stir nonetheless. Her edgy hairstyle and moody photo shoots paint her as someone who already knows what she wants and how she wants to project it. Whether this is the case or not, we won't know until we see her perform live.
Her recorded tracks are strong and catchy, though derivative, and her vocals reflect the edginess. At LIVERPOOL SOUND CITY's Art Academy, the band look comfortable and tight onstage. Chlöe is dressed in a flowery print short dress, black docs and the characteristic locks. The female bass player is excellent, and as one member of the crowd says at the end, "I was watching the bass player more than the singer." On the point of charisma, I was disappointed, seeing it as a missed opportunity, but this is a young band so we're curious to see where they'll head and if there's more buzz and 'look' here than actually band. And maybe Chlöe will develop more stage confidence and presence as time goes on and experience is gained.