Here in the UK, we've had a great 2015 so far, bearing witness to brilliant touring bands, some established, some breaking through big, including WARPAINT, SLEATER-KINNEY, COURTNEY BARNETT, SCREAMING FEMALES and KARIN PARK, and in a matter of hours, we'll soon be catching up with Tokyo's coolest avant-garde synth band GROUP A who are right now embarking on their first ever Europe mini-tour. At the same time, we're desperate to see ex-HOLE drummer Patty Schemel's new band UPSET with lead vocals by ex-BEST COAST / VIVIAN GIRLS' Ali Koehler who have been touring the US with the fabulously chilled COLLEEN GREEN who has been pumping out some great new ditties and who will shortly be hitting UK shores in a matter of days. Many of these bands also have new albums out so we've been enjoying the current array of talent out there, away from the more tedious mainstream blah hitting the yawn charts.
In March, WARPAINT took over Manchester's Albert Hall which has soon become the place to gig for popular hipster bands. After being made to wait over 30 minutes beyond the scheduled start time, the crowd were suitably in awe of the LA foursome, as they started off slow, only to build up to a fabulous crescendo. Though band-crowd interaction was minimal, Emily Kokal made up for this by greeting them eventually with a "Wassup!" and later handing the mic to the audience who pass it around the venue, singing along to Love Is To Die… She reinforced her gratitude to fans with "Let me know if you need anything!" followed swiftly by correction "within reason!" Jenny Lee Lindberg was excellent to watch with her fabulous bass strums, and Stella Mozgawa slickly tamed the drums in her iconic manner. This band should win an award for being the most charming, entrancing band with the most laid back approach to an audience.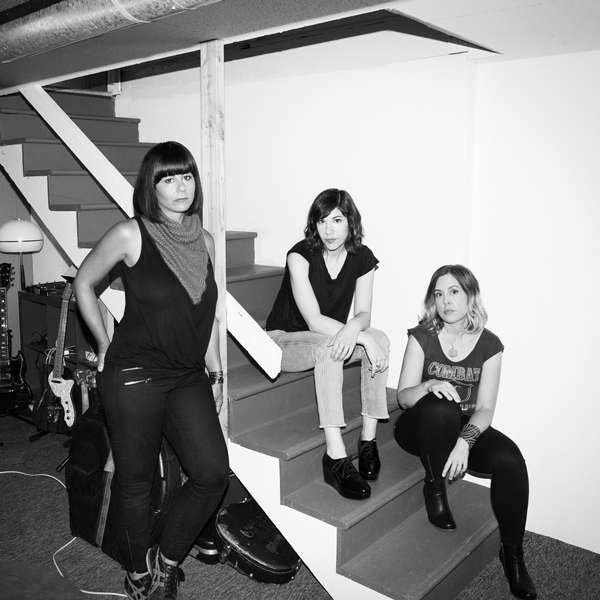 The day after Warpaint, the Albert Hall welcomed one of the most iconic bands in recent history: SLEATER-KINNEY. While the atmosphere the night before was beyond chilled, by contrast, tonight the air was filled with raw energy, as SK fans of all ages and types came together to worship at the altar of the Olympia band who influenced and inspired many a guitarist and singer-songwriter. Though Corin Tucker and Janet Weiss were suitably amazing, it was Carrie Brownstein who stole the show, climbing aloft monitors, egging on the crowd, showing off her super smooth guitar moves and spreading charisma left, right and centre. A moment in time, and a strict reminder to all that they are one of the greatest living bands. Taking home a No Cities To Love t-shirt, our night was made.
COURTNEY BARNETT has been touring like crazy and so it was just a matter of time before she made it back to Manchester (she's due back here again in November). The Melbourne singer-songwriter has been pumping out tracks off her new album Sometimes I Sit and Think, and Sometimes I Just Sit, and after her recent appearance on the Ellen show in the US, she's been getting even more attention. And rightly so, the band's live shows are electric, and together with drummer Dave Mudie and bassist Bones Sloane, they brought the roof down once again, this time at Gorilla. The venues get bigger and bigger for Barnett, having first seen her at Liverpool's tiny Zanzibar venue, now twice at Gorilla, the next one due to be the Ritz… Probably one of the most chilled artists on the up, she loves tweeting about her band van soundtrack, and last time we hung out in the tour van and at a fast food place chatting music and life. We caught up with her in Brisbane recently, and exciting news for her Japanese fans – she's heading to Tokyo in October.
In April, we met SCREAMING FEMALES' Marissa Paternoster, Jarrett Dougherty and King Mike at the legendary-but-due-to-closedown Roundhouse in Manchester's Northern Quarter, where we shot this iconic portrait of the fabulous trio who smashed the stage that night. Lead singer Marissa demonstrated her masterful guitar strokes, securing her title as one of the best living guitarists in the world, while the band collectively showed up UK bands by letting loose playing top-class innovative rock without having the swollen head to go with it. We had a great time hanging again with the band, reminiscing with Marissa over 90s powerhouse females including Sheryl Crow, Sarah McLachlan, Lilith Fair, Echobelly, Republica… and were delighted to finally stock up on our Screaming Females t-shirt supply. Rose Mountain is certainly more refined than their previous albums, but this New Jersey band are unmissable live, and we look forward to more albums and live shows to come.
Sweden's KARIN PARK has a new album out and it's fantastic. Apocalypse Pop is an appropriate follow up to Park's beautiful Highwire Poetry, a diverse collection of thought-provoking sensual electronic sounds and visceral drumbeats. Park's had an interesting couple of years working on the new album but also submitting a successful song to the Eurovision Song Contest for Norway in 2013, and competing in the qualifying competition for Norway's Eurovision selection. Since last year, Park has added a new member to her duo setup with brother David, namely the delightful Juno all the way from Oslo, on keys. Having recently played to thousands at Germany's L-Beach festival, the band squeezed onto the Manchester's Soup Kitchen stage at the end of their Europe tour in April, filling the basement with deep bass sounds and synth extravaganza, Juno smiling and swaying away, Karin dominating with her perfect tones and lofty height, brother David with his golden locks smashing those skins with aplomb, making him one of the most exciting drummers I've seen in a while. It's always exciting to catch up with Karin, as the bar just keeps getting raised higher and higher.
Tokyo's GROUP A aka Tommi Tokyo and Sayaka Botanic are in the midst of their first ever Europe mini-tour, currently booked for Italy and Germany – expect to hear more about them later in the year on this side of the planet. The eclectic duo headlined our Pussy Riot support event in Tokyo back in 2012, and have since gathered pace featuring on numerous edgy live and DJ lineups with local and international bands in Tokyo. We cannot wait to catch up with them in Italy.
We last saw COLLEEN GREEN in Leeds when she was supporting EMA, since when she's put out new album I Want To Grow Up which features fabulous new wave track Deeper Than Love, and she'll soon be in the UK. Green has been gigging with UPSET, whose debut album She's Gone features track Oxfords and Wingtips which we've had on constant loop, and who boasts a stellar band membership including Best Coast's Ali Koehler and Hole's Patty Schemel.
To round off the first half of our year, the inimitable queen of riot grrrl Kathleen Hanna will be touring the UK with new band THE JULIE RUIN who have been championing their exciting new album Run Fast.
In the meantime, we'll leave you with some great tunes from some of the above: