TAYLOR MOMSEN is back in the UK with her band THE PRETTY RECKLESS, this time on their Going To Hell headline tour off the back of their stunning second album of the same title.
Not surprisingly, given the dedication of TPR fans across the globe, the Manchester show is a sell-out. Momsen has gained a reputation not only for delivering brilliantly written songs and eyebrow-raising videos, but also her charismatic live performance and on/off-stage outspokenness (rock ON!). Although the days of inviting female fans onto the stage to dance and undress may have gone, we all anticipate a blistering set from the American rock band who have previously supported the likes of Evanescence, Guns N' Roses, and Marilyn Manson. We last caught TPR at the Phones 4U Arena supporting Fall Out Boy, a disappointing show if only because of the oversized venue and short set. TPR are a band you need to see up-close and tonight we have the privilege of doing just that.
I arrive at the Academy to a highly energised crowd, mostly comprising young women. We catch UK band HEAVEN'S BASEMENT who keep the stage suitably warmed up for the headliner.
Lights down, the band walks on to screams and Momsen eventually emerges to massive applause and yelps of excitement. Spending the first track head down at the mic, golden locks spilling over her face and tossing around, Momsen warms herself up while the crowds sing and clap along to opener Follow Me Down. Not one to mince her words, Momsen responds with: "Hello, Manchester! Thank you for fucking coming out tonight!" It's clear who's the boss of this outfit, Momsen pummelling the stage with her sparkly killer boots, keeping her bandmates in check, and contorting her body into shapes befitting of a professional dancer.
House on a Hill reveals the depths of Momsen's vocals, the ballad cooling down the in-house fervour for a few minutes, but Dear Sister and Why'd You Bring a Shotgun to the Party soon draw the crowd back into a frenzy. Clearly having a ball onstage, Momsen shouts out, "It's great to be back! Manchester's like my favourite fucking place ever!" Make Me Wanna Die gets an enormous reception, while the excellent Heaven Knows provides the perfect singalong, the set closing with Going to Hell, introduced deliriously by Momsen as "Manchester! You're fucking going to hell!"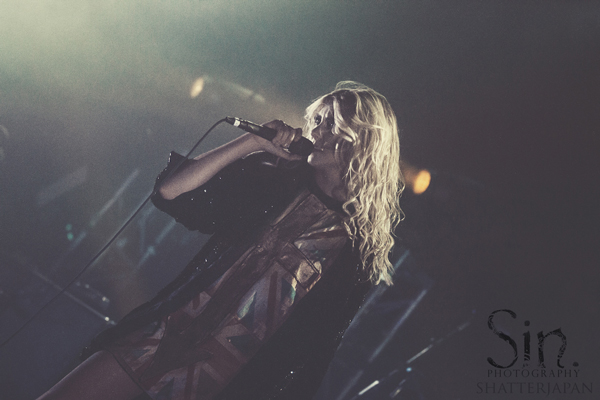 A million miles away from the lukewarm audience reception the last time they were in town, this crowd are more than willing to engage with Momsen as she gets them singing along, fists pumping up. There is a great deal of love in the air for this lady and her music, and it's a compliment to Momsen that the crowd atmosphere is one of the most harmonious I have witnessed at any gig. The venue is filled with screams of "We want more!" followed by "TAYLOR!" shouted in unison over and over again until the band reappears. Ensues one of the most electric and longest encores I have seen. Fucked Up World dominates this segment, interspersed with an impressive drum-electronica solo, confirming that TPR are so much more than a straightforward rock band and that interesting times are ahead for fans. With an accompanying video which was censored by YouTube (*yawn*) but later followed by the release of an uncensored director's cut, Momsen is, through her in-person and online presence, proving to be a writer-musician and social commentator to be taken very seriously indeed.