The 2014 edition of FUJI ROCK FESTIVAL at Naeba Ski Resort saw yet another heavyweight lineup breaching Japan's shores at the end of July. Festival goers this year enjoyed unseasonably good weather for the three-day event, only enduring brief showers on the Sunday.
New York's indie rock quartet PARQUET COURTS were the first act we caught playing at the Red Marquee, where they thrashed out a set consisting almost exclusively of tracks from their latest album Sunbathing Animal, aside from a couple from Light Up Gold.
The group warmed up the sparse audience of early arrivers to the festival with their traditional rock stylings, a crowd that grew significantly upon the approach of the next set to be played by shoegaze veterans SLOWDIVE, who brought their signature melodies to Fuji Rock all the way from the UK this year as a part of their reformation tour after dissipating in 1995. Having played live shows since 1989, the group are seasoned performers, treating fans to tracks from their three studio albums, opening with track Slowdive from their self-titled EP, and closing with a cover of Syd Barrett's Golden Hair, vocalist Rachel Goswell's voice just as dreamy as ever.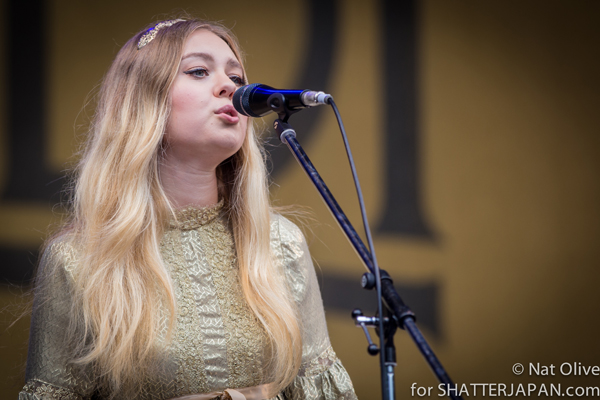 After they wrapped up, we headed to the White Stage to check out Swedish sisters Klara and Johanna Söderberg, who form folk duo FIRST AID KIT, for their first ever Japan performance. Adorned in gold, the girls sweetly dished out delightful folk songs from their three studio albums, mostly from their recent effort Stay Gold (the giant matching banner providing the backdrop for their set), aside from a Bob Dylan cover of One More Cup Of Coffee (Valley Below). The girls have received enormous critical praise especially in Scandinavia but also internationally, and have toured with the likes of Conor Oberst as well as headlining their own international tours.
American indie lords FOSTER THE PEOPLE were up next on the Green Stage, and were met by a huge audience cheering heartily for their set. Fans heard tracks from their 2011 debut album Torches, which of course included their insanely popular career-launching track Pumped Up Kicks, for which the audience suitably freaked out. Frontman Mark Foster had the audience in the palm of his hand, dancing flamboyantly around the stage and pandering to the festival's video cameras.
Next was London's indie-folk group BOMBAY BICYCLE CLUB who played the Red Marquee, where Jack Steadman had fans completely enraptured with his sweetly delivered vocals, accompanied by Mexican day of the dead animated visuals in the background. We heard seven tracks from their fourth and latest album So Long, See You Tomorrow, and perhaps the track best received by fans was the Bollywood-styled melody Feel.
It was back over to the White Stage next, where the young brothers Guy and Howard Lawrence, aka DISCLOSURE, blasted audience members with their electro garage goodness. Perched behind their individual production stations and accompanied by live video feed visuals of themselves in the background, they played ten tracks from their 2013 record Settle plus a remixed cover of Jessie Ware's Running. Even with only one album under their belt, the boys have received astounding fame, collaborating with artists all over the world who were impressed with their first effort, such as Mary J Blige, Sam Smith and London Grammar.
Last up for Day 1 of Fuji Rock Festival were Scotland's indie rockers FRANZ FERDINAND, who headlined the Green Stage and played all of their classic hits. The guys opened with No You Girls and Dark Of The Matinee, closed with This Fire and naturally included their much-loved track Take Me Out, all the while delivering their signature avant-garde live rock performance.
>> READ ABOUT AND SEE PHOTOS FROM DAY 2 here >>