At the cosy TAKK café in Manchester's trendy Northern Quarter, I'm here to meet Vancouver-based Canadian singer-songwriter HANNAH GEORGAS.
Last time Hannah was in town was as support for Kathleen Edwards – she was at a very different stage and most likely in a very different headspace. We now meet Hannah in the midst of a busy UK mini-tour, promoting the new self-titled album and showcasing her new sound. I give the album several listens, and I'm blown away by the leaps of faith that Hannah has taken. Collaborating with HOLY FUCK's Graham Walsh, she's pulled in a lot of synth sounds which expand the songs written with great depth and raw passion, and here we have the Hannah I always knew was there. I'm also loving the abstract album cover, designed by a friend of hers.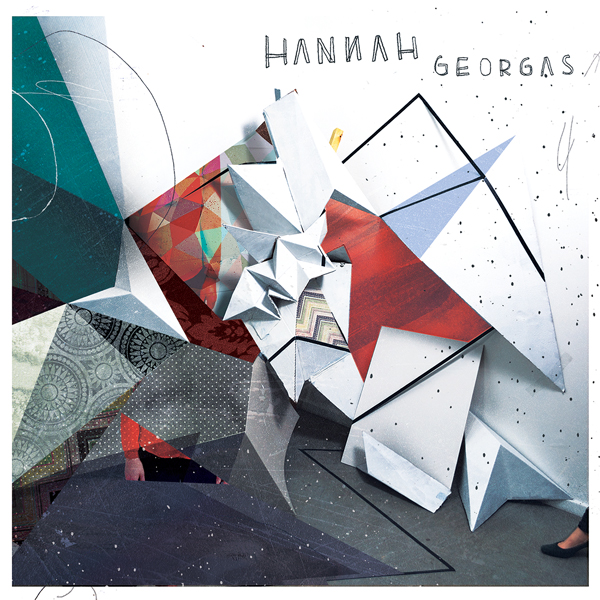 Before the show, we meet up in the chilled café resembling something more akin to somewhere you'd find in the streets of Brooklyn NY. The stage is currently nowhere in sight, later to be revealed as a corner of floor space. The size restriction has also meant that we're without drummer tonight, and so Hannah is presenting a stripped-down version of her set, the first attempt of its kind it seems. Sadly we won't get the full-on pumping sounds, but with Hannah, I'm not worried – she blew the venue away with her crystal-clear vocals and professionalism the first time round in Manchester, and I'm sure tonight will be no exception.
As the evening falls upon us and people gather, the room is nicely filled, chairs have been decked out, and it's a bit cramped, but hey we're all getting friendly. She opens with "Elephant" which is so beautifully sung, it gives me shivers. Bassist Cory Curtis is solid and Robert Tornroos plays some fantastically glassy guitar riffs which perfectly complement Hannah's voice.
With comparisons often made to the likes of Feist and Emily Haines, Georgas is in good company, and she has a voice that makes you want to stop and listen, lyrics that make you want to know more and connect. She's an old soul with a modern-day edge, the electro child to the McLachlan-Colvin-Loeb era of old – no surprise then that she was invited to perform on the 2010 Lilith Fair tour.
There's a lot of chatter going on in the crowds – it's a bit hard to avoid though, what with the café bar, stage, merch stand and toilets all within minimal walking distance from each other. At one point, while Hannah is fully engaged into "Enemies," a startling yelp emanates from the back of the room as a fella stumbles out of the loos, seemingly forgetting that there's a live gig going on. People burst out laughing for the remainder of the track, and Hannah does well to keep her face straight. It's a Friday night in Manchester and beer after beer is being thrown back.
The brilliant "Robotic" is followed by the catchy "Fantasize" which seriously won't leave my head now, not that I'm complaining. And "Ode to Mom" is a heartbreaking homage to her father who passed away, a song of comfort written for her mother. With some handy crowd-interaction towards the end, she's got them on her side, and they will remember her.
Hannah Georgas is an extraordinarily humble and talented artist. More than anything she's an amazing writer and performer, and also very likeable to boot. Endearingly shy, she recently smashed the stage at the 2013 JUNOS Awards Ceremony. Nominated twice this year, she's getting tongues a-wagging in North America, and she'll soon be building followings all over. Before touring the UK she was over in Germany, so the Georgas word is spreading. She's hit that perfect balance between commercially-friendly song structures and injecting her true self into every aspect of her writing and performing. Feist, Haines and Edwards, take note: Canada has produced another landmark musician and she's in it for the long haul.