KATE NASH is reaching the end of her UK tour, and she's ending it on a high here in Manchester, where she has a loyal following. About three-quarters full, the venue is the perfect size for this Nash night out. A mix of eager students, fans young and older are packed towards the front barrier, and as Kate's trademark "You Don't Own Me" intro comes wafting over the speakers, screams emanate from the crowds. Kate's incredible all-female backing band traditionally emerge first, this time dressed in black sparkly outfits, abandoning the notably cooler grunge-rock look we saw earlier in the year at Gorilla. Roars from the crowds as Kate appears in her typically intriguing attire, this time multicolour hearts adorning her dress, and hair up at the sides, perfectly revealing the now characteristic platinum streaks.
Straight into opener "Sister" and already the crowds are singing along. In awe of the level of screaming after each song, Kate cannot resist commenting, "That was an amazing scream – I have to get a dictaphone for that one!"
Kate Nash is clearly in her element in this city, and although the atmosphere is nowhere near as electric as their venture at Gorilla back in April, performing in Manchester means a lot to Kate and her band who are ace drummer Fern Ford, solid bassist Emma Hughes, and star-in-the-making lead guitarist Linda Buratto who also heads London band Echo Boom Generation.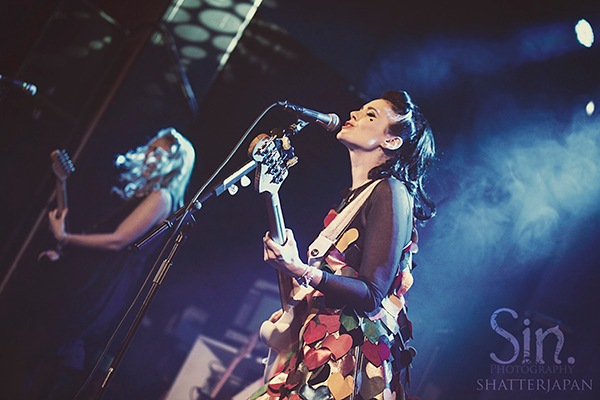 "I love you Manchester!" – Kate can't contain her adoration of the city and her fans. Not one to have trouble filling gaps between songs, she takes the opportunity to rally the youngsters in the crowd and encourage them to dump their useless friends and get better ones: "Fuck the dickheads, they suck! You know they suck. You should cut them out! Go and spend time with the ones who are really good for you." Sound words from a woman who does talk much sense to a youth who suffer these days for not having enough, or in many cases any, healthy role models. Kate sings at length about friendship, and it's clearly a topic close to her heart.
Once we get to "Foundations," the audience is in the palm of the Nash hand, and Linda enjoys her moment of glory as she rocks out at the front of the stage, wielding her guitar like a prized possession she's proudly showing off to the floor, then collapsing to her knees at Kate's feet, much to the delight of the crowds.
A cute little white bunny is thrown onto the stage, another sign of the affection held by the fans – she picks it up with an "Oh my god!" and happily adopts it. Thanking her supports, band mates, crew and family, she makes a point of expressing gratitude to her fans who helped give her the confidence to bring out her latest album Girl Talk independently. "Aw, I recognise some of you!" she says with returned affection, and thanks them for coming to her gigs. She then talks about how lucky she feels to be able to play music with her friends. She goes on to encourage the girls in the audience to get into music or whatever they want to succeed in.
Kate then brings on a stage invasion joined by supports Vulkano and the Heartbreaks, culminating in her crowdsurfing, although it turns into more of a crowd-swallowing as she disappears for the remainder of the song. Clambering back on stage, this is when the atmosphere dramatically switches, a number of fans grumbling that all the partying is going on onstage – noticeably, there's very little dancing going on offstage, with the crowds feeling quite ignored as they remain mostly static. Admittedly, it's the last day of the tour and they want to party, but the band has been looking more than a little exhausted and flat tonight, compared to the other times we've seen them when they've been fully engaged with the crowds – we're also missing the grunge grrrl look of the backing band, which definitely works better for them in terms of girl rock power image – let's hope they bring that back next time round. Maybe they all just need a good rest and a nice strong cup of tea. I also think that the massively wide photo pit doesn't help the Kate Nash experience, as the band much prefer to be up front and personal with crowds.
The gig ends on a slightly anticlimactic note, but Kate lingers on stage to chatter and dance with the fans, reluctant to say goodbye to them and to Manchester. She has to almost tear herself away, as she says goodbye to everyone, looking a little bit forlorn. Nash and Manchester have been parted once again, but let's hope it's not too long before they reunite.