The sound has been pretty good at the East Village Arts Club playing host to a number of excellent bands at LIVERPOOL SOUND CITY 2014. So, I don't know what's happening during the SEPTEMBER GIRLS set on the Saturday of the festival. The engineering is all a bit clunky, but the band do their best to cope with some annoying mic issues.
The venue is comfortably busy but not as rammed as it was the evening before when Wolf Alice were in town. That being said, it's early in the evening for a festival and the lineup is still class tonight.
I'm curious to see this band perform live. There's a small buzz around this five-some, but I've not been bowled over by any particular song from them yet. Let's see what today brings.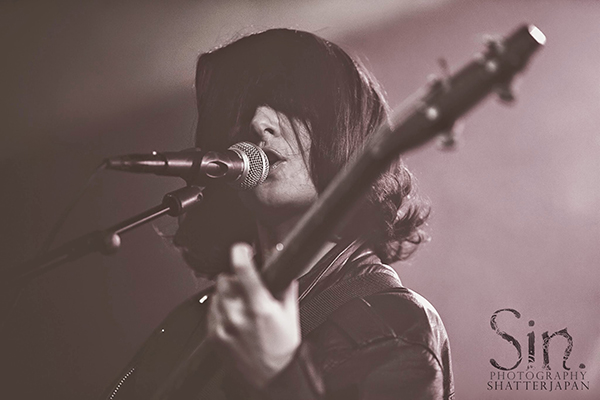 It's always very healthy for the industry to see women behind instruments and mics, if only to even out the score. Tonight, I'd say it's quite obvious that some of the band members are more confident than others. No amount of image-building can make up for natural stage presence and instrumental talent, so we're looking past the glamour to observe the musicianship and stage personas.
I enjoy Green Eyes immensely, and as the set moves, the band do begin to loosen up. But it's all over a bit too soon for them.
Hands down, I'd say the standout star of this band right now is the fierce drummer Sarah Grimes. Sarah's drumming tightness is so impressive that I spend the larger part of this show watching her strokes and completely engaged. Like a lot of strong drummers, I'd argue that right now she elevates this band. It's hard not to deny that she's outplaying the rest of her team tonight. That's not to say that everyone else is poor at all, that's simply a compliment to Sarah and her brilliant skills, not to mention her confidence which oozes out from the back of the stage. It certainly never hurts a band to have a charismatic drummer on board.
I'd really like to see September Girls again when they've relaxed a bit into their live set – they really do look very nervous tonight and there's minimal banter with the audience. There are glimpses of The Bangles, The Cranberries… I could go on. But, they are of course a band unto themselves, and it's still very early days for Paula, Caoimhe, Lauren, Jessie and Sarah. Watching that space very closely…