WOLF ALICE have been gathering momentum since we saw them last year. The East Village Arts Club is filling up nicely to welcome the London four-piece led by Ellie Rowsell. Looking around, this band have definitely captured the student market as the venue hosting acts for LIVERPOOL SOUND CITY 2014 begins to resemble a busy student union.
Raging guitar riffs open the set, as Joff on guitar and Theo on bass adopt a dramatic stance facing drummer Joel. High energy takes over the venue, and it seems that this band have greatly transformed their stage presence since the last time we saw them at Live At Leeds 2013 when they all seemed to require an immediate caffeine injection. This time it's a million miles away from that night, like they're playing for their life. Ellie is still struggling to relax onstage but it does seem to be getting there, and the rest of the band are happy to make up for her composed self behind the mic.
They run from one crashing track into the next, standouts being She, an interesting transition from Blush to Chris Isaak's Wicked Game (haven't quite decided if this enhances their set or not), and the brilliant Fluffy which I always enjoy live.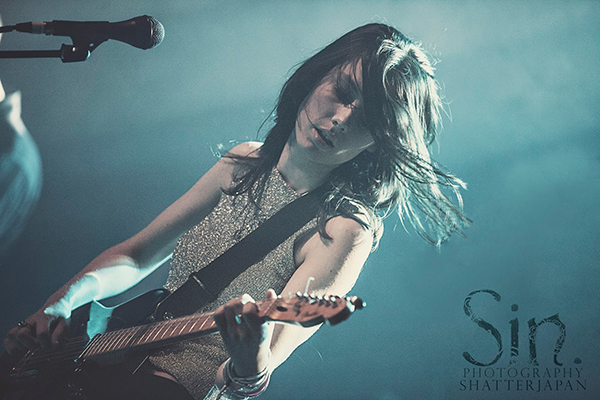 As Theo jumps down into the pit and shakes his head over the crowd who stroke his locks accordingly, guitarist Joff mounts the drum stand, and Ellie continues rocking out onstage as drummer Joel smashes out. A bold end to a tight set.