REPUBLICA are back on tour and we're ecstatic about this. They're supporting the legendary BOOMTOWN RATS. Talk about an explosive combination, with both bands renowned for delivering live to the fullest and headed by charismatic leads.
Catching up again with Republica's Saffron is as if the collapse of the music industry had never begun. Her passion for music and all things cultural, in tandem with her renowned compassion for animals and humans alike, is contagious and this is a good reason for why she has successfully maintained a loyal fanbase and sincere support over the years. Backstage, she's generous in her introductions and grateful for every positive flash of soul that passes her way, an intelligent open book who embraces every experience while oozing a positive and magical energy, reminding us that integrity is far too much of a rarity in this shaking industry which requires the presence of such unconventional artists for it to flourish.
Republica at Liverpool Academy (by Aidan Cross):
REPUBLICA gigs often have the feel of a ritualistic electrical thunderstorm, the audience bathed in the powerful, unifying atmosphere of the band's techno-punk anthems with lyrics calling for transcendence of the mundane everyday lifestyle to attain a higher goal. Saffron reaches out to the audience with a natural star charisma, combined with a stunningly humane and humble warmth that brings the audience together as one for a dance experience akin to a spiritual awakening of their basic instincts. The band may only be playing a half-hour set on this tour, but the above is no less true here than of their full-length gigs, as they damn well make the most of their every moment on stage, buzzing with an energy and life that is nothing short of inspirational.
They set the mood for the evening by launching into 1998's From Rush Hour With Love, then step things up with Out Of The Darkness from their debut eponymous LP, its unmistakable synthesized vocal intro nicely launching us into this unforgettable call to life beyond the 9-to-5 city lifestyle.
Timeless hit Drop Dead Gorgeous incites singing along from the crowd, before brand new song German Accent is delivered with such vigour and punch that prove they have lost none of the power which made them a force to be reckoned with in their mid-90s heyday. Electrifying new crowd-pleaser Hallelujah, debuted on last year's reunion tour and yet to be committed to the studio, is so intense that it could be easily mistaken for one of their greatest hits. They follow with the anthemic Christiana Obey, the title track from last year's comeback EP, before playing out with the seminal Ready To Go, delivered as usual with a euphoric energy as Saffron belts out the legendary vocal line.
A new album is rumoured to drop next year and, reminiscent of the lyrics of Hallelujah, fans expect this to be a statement that Republica are coming alive like they never went away.
Two days later, at Manchester Ritz (by Olivia Moss):
Here in Manchester, things are literally hotting up… The Ritz being notorious for its lack of oxygen on a busy packed night, we're all roasting in this massive human oven. Sadly, REPUBLICA have been consigned to an insanely early slot and this doesn't help in terms of attendance or atmosphere. Regardless, Saffron et al smash the stage and get people pogoing before we know it.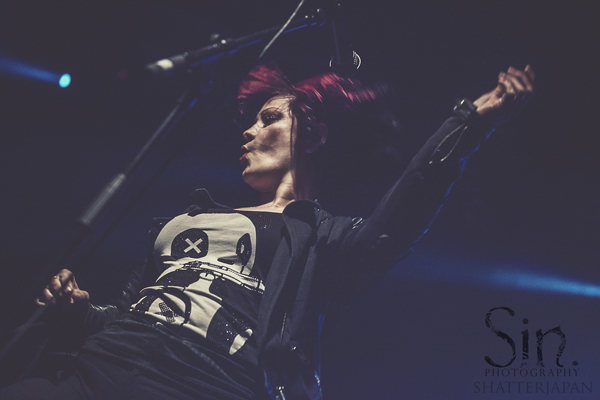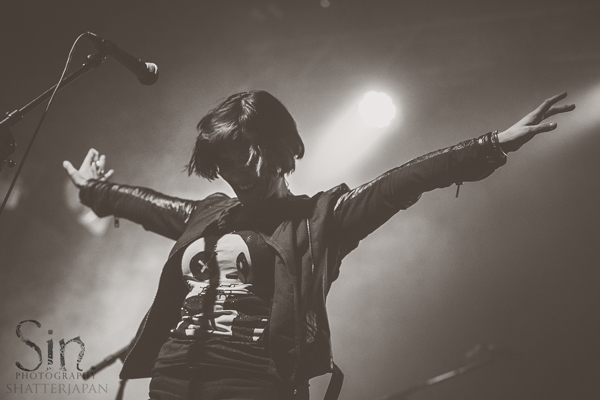 I don't think I will ever see someone looking happier fronting a band than Saffron, as she blows kisses and 'thank yous' to her die-hard fans who follow her from venue to venue. I find it hard to think of Republica as a support band, but the Rats tour seems to have been good for them, with both bands thoroughly enjoying sharing the stage and blasting the industry again together.
THE BOOMTOWN RATS hit the stage to massive applause, their entire show consisting of Bob Geldof in human dynamo mode, as he works all corners of the stage, summoning the audience at every possible opportunity, embracing the attention of the pit photographers as he leans over them, and then spending the rest of the show performing as if it's the last show of his life. This is a man with raw passion and he's letting it all out tonight.
The energy in the venue is ten times more heightened than in Liverpool and Geldof carries the crowd with him. Granted, the audience consist of mostly middle-aged or older people, but they're moving and singing along, arms in the air, and bonding with the frontman in a way I've not seen in a long while. Geldof has them all in the palm of his hand, and he's giving them a show worth every ticket price penny.
The inevitable hit I Don't Like Mondays generates emotion and nostalgia, while set closer The Boomtown Rats acts a kind of theme tune, getting the entire venue bouncing around. Geldof is a force of energy, and we're thoroughly impressed, even by his commitment to his faux snake-skin suit he so proudly displays.
Post-show, there are more hugs with Saffron and crew. It's been a great couple of nights with them, and we also grab a moment to catch up with Boomtown Rats guitarist and adorable phenomenal talent Darren Beale. He confesses that the heat in the venue was practically melting his gear, but – with a huge grin – he cites Manchester as the best night yet on the tour. Job done, and we're all off home to recover from the big melt.
>> Check out our full set of REPUBLICA photos HERE! >>
>> Check out our full set of THE BOOMTOWN RATS photos HERE! >>