It's been a good few years since New Jersey's very own SCREAMING FEMALES have been in the UK. We last saw them tearing up Manchester in 2011 when album Castle Talk was doing the rounds. 4 years on, they're touring new record Rose Mountain, a more subdued affair and a reminder that this band are ever evolving. With world-class lead singer-guitarist Marissa Paternoster having suffered prolonged illness, forcing a much-needed touring break, it's been a bumpy road of late for the trio, but they're now back on track, traveling the globe, spreading their trademark high energy and warmth.
Here are some portraits we took of the band at Manchester's Roadhouse in April. After the shoot, we continued our chat in the local Soup Kitchen hipstertastic café, swapping 90s music passion stories (Lilith Fair, Sheryl Crow, Sarah McLachlan, Republica, Echobelly…) and discussing vegetarian food.
Happily maintaining a strong DIY ethic, Marissa, King Mike and Jarrett bounce from city to city, sometimes a crashpad planned in advance, sometimes not… Their love of meeting the people and getting to know the cities they encounter is wholly welcome in this age of cold calculated pursuit of fame and glory. Celebrity may not be their game, but they're nevertheless earning fans and respect wherever they go, and they're easily one of the most exciting live bands in the world. To boot, Marissa's is also a talented artist, so I'm always eager to stock up on the band's latest t-shirt designs.
And here are some live photos from the night. The show was sweaty as usual, Marissa refusing to hold back, hovering over the crowd guitar aloft, urging them to join her in the frenzy, Jarrett smashing the skins, and King Mike pounding the bass – these guys clearly love to play, every track executed in a raw and magnetic manner that they have become renowned for. Marissa ate the mic a few times, the band played a beautiful extended instrumental in the midst of a busy set, and new songs were tried out on the Manchester fans.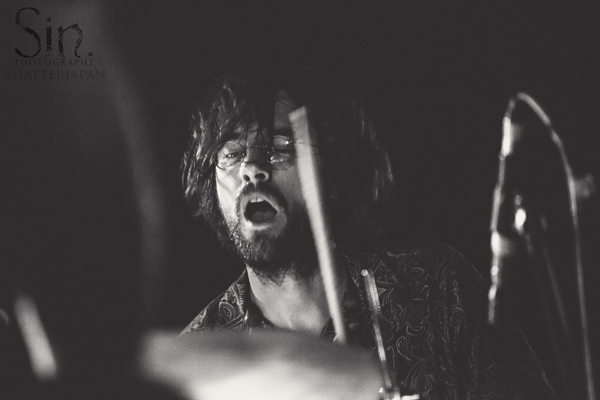 The Roadhouse is due to shut this year, and the poor sound engineering sadly reminded us of why the venue, though legendary, is no longer the place it used to be. There is history here however, and Screaming Females were more than happy to show the venue a good time before its closure, seeming completely at home in the dingy backstage room which has housed many a band over the years.
It's always a delight to watch Marissa Paternoster's incredible guitar fingerwork, and I'm looking forward to many more albums to come. As we leave the venue at the end of the night, I ask, "So, do you guys know where you're staying tonight?" to which Marissa responds, "Who knows…" – rock n'roll, indeed…
>> Check out our full set of SCREAMING FEMALES photos HERE! >>