[tabs tab1="Intro" tab2="New Album & Tour" tab3="London Recording" tab4="The Industry" count="4″]
[tab_first]
THE JEZABELS are back in town. They've been back and forth to the UK the past few years, gently nurturing their fanbase, supporting massive names including Garbage, Depeche Mode and The Pixies, and we always love catching up with them.
Electric on stage, they have been unfairly snubbed by the mainstream UK media who struggled to latch on to the fact that this is not only a cool band to see live, but that the loyalty in their fanbase is fierce whether its back at home in Australia or here in Manchester – and they have worked hard to earn that loyalty. While certain media types continue to play catch-up, the band have just brought out second album The Brink to follow their 2011 award-winner Prisoner.
Off the back of their LANEWAY FESTIVAL slots, they're soaking up the new set list as they now perform to fans across the UK and Europe.
Here at Manchester's Gorilla, there's already a buzz in the air as Jezabels fans gather to embrace the new tracks and celebrate the classic ones too. The new London-recorded album is certainly of a different vibe to the first one – in Hayley Mary's own words: "we think it's a bit more of a positive, warm record" than their acclaimed debut.
Backstage, I get right down to brass tacks with lead singer Hayley Mary and guitarist Sam Lockwood, while drummer Nik Kaloper sound checks next door and keyboardist Heather gets ready for the show ahead. It's nice to see them again, and as always they're focused and friendly, with feet firmly on the ground.
* For report and photos of 25 February Manchester show, click HERE >>
[next]
[/tab_first]
[tab]
Hello again! One album further on…
SAM: One album into the future!
You got to the UK not that long ago and you've just done Nottingham…
SAM: Yeah, we were in Australia for Laneway Festival and we came over a couple weeks ago. This is basically the start of our album tour.
How did it go?
HAYLEY: Last night was good! It was a really great crowd for some reason – we weren't expecting it because it's Monday, beginning of the week…
SAM: The show was really fun, it went really well.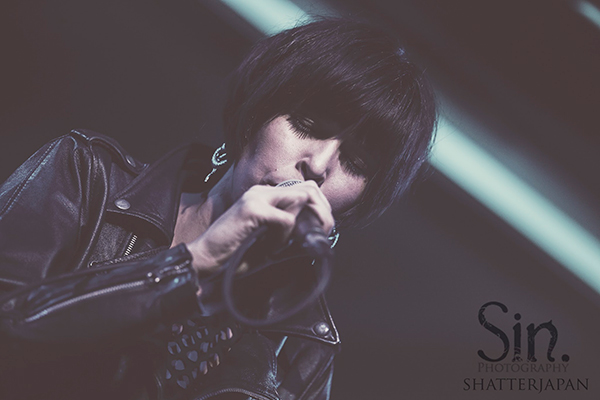 And how are you feeling about the new album? It has a different feel to the first one…
HAYLEY: Yeah, we're definitely feeling good about it. The main thing we've been saying about it is we think it's a bit more of a positive, warm record, it's probably a little bit more upbeat – we wrote it purposely to make it easier to play live, so we're looking forward to seeing if we've succeeded. And so far, it sounds good…
SAM: Yeah, last night went really well – we can play seven songs off the album now. With Prisoner, it took us many, many months to even get a couple of songs.
Are you going to be changing your set as you move through the tour?
SAM: Yeah. It's just testing set lists and what works, because with new songs, you don't know how they fit in with everything else…
It's an exciting period though, because you can experiment and you're probably very conscious of the audience reaction…
SAM: Well, putting six or seven new songs into the set list makes everything new – they make old songs seem new, so it's just really nice. We got rid of songs we maybe played too much…
HAYLEY: Yeah, and every time we don't do songs, people are like, "Why don't you play that one?" And it's like, "Well, we have a new record…"
Are you happy with the response to the new set so far?
SAM: Yeah! It's awesome, we're stoked. Even last night with the show – it was a really great crowd. The last time we played Nottingham we were in a really small room. Last night it was a bigger venue, The Rescue Rooms, and the room was full It just felt like people were really psyched about everything. We're a very malleable band with our emotions, so if people are excited, we get really excited – it's kind of an exchange.
HAYLEY: Yeah, if they're not excited, we get sad…
Aw no! What do you do on stage if you ever feel the crowd's not getting into it?
SAM: You just have to try to get through it, but it's so much easier if they're into it.
Well, I'm looking forward to seeing the new set.
SAM: Yeah, it should be interesting!
HAYLEY: We'll see how it goes! I just don't know what's going to happen out there…
And, what would you say you'd hope to happen with the album and the tour?
SAM: I hope it goes well.
HAYLEY: Nothing in particular, but I just hope that it goes well and that people like it. I hope we don't lose money, but other than that I just really would like to make people happy!
[previous]        [next]
[/tab]
[tab]
You recorded The Brink in London – I found it quite funny when I discovered you chose London, considering last time I met you, you were quite frustrated with how the UK press were receiving you here…
HAYLEY: Oh, we still are!
SAM: Yeah, we kind of thought about that, like, "Why aren't we going somewhere like Germany or Canada where they love us?" Yeah, maybe we're masochists…
HAYLEY: I think we like to be berated and put down… We like being the underdog. You don't want to be somewhere where they love you and think you're great, because you'd just get complacent…
But, what if everything just switched with this tour – if the UK critics now suddenly embraced you, would that feel a bit odd?
HAYLEY: We'd probably be like, "Oh yeah, now you like us…!"
SAM: After we did a Depeche Mode and a Pixies tour, we felt that it kind of repositioned us in a way. With a band, people need to put you somewhere to fit you into the landscape. With us, it's kind of weird because our music is not generally pop – it's not generally anything. In Australia, we're Australian so everyone's generally supportive, but when you go somewhere else, you feel you need to have a story…
HAYLEY: We've got a lot of things which make us really unmarketable to the London market. But one thing we noticed is London is separate to the rest of the country – we really like touring the rest of the country. I love London too, but it's just that the music critics there seem to have a war against optimism.
You're too happy?!
HAYLEY: But, we're not, even! We just wrote happy music…
SAM: We're not even that happy…
Maybe it's a bit cliquey in London – it can be tough, because there's quite a lot of bandwagoning among the mainstream music media there…
SAM: Exactly. Especially if you're making music that doesn't have a genre or a trend…
HAYLEY: … or if it's not in the movement that they think is cool at the moment…
So, you say you repositioned yourself – did you go into the new album conscious of wanting to achieve that?
HAYLEY: I don't think it was conscious…
SAM: I mean we wanted to do certain things like make things better for live play, but that's all, really. I mean, choosing your producer is really instrumental, and with Dan's (Dan Grech-Marguerat) work with The Kooks, The Vaccines and Scissor Sisters, you can sort of get a general picture of what he's going to do, so I guess that's one thing we could have understood. That's a big thing that made the album sound like it is.
HAYLEY: But a lot of it is circumstance. We didn't move to London because the critics hate us there or anything – we went there because we had personal relationships that meant it was easier to be there than anywhere else at that time.
So, did you develop an affection for the city?
SAM: I love London – it's amazing.
HAYLEY: Totally! It's London! You can't really top the experience of living there.
[previous]        [next]
[/tab]
[tab]
The last time we met was your memorable show with GARBAGE at the Manchester Academy almost 2 years back. Since then, we've seen Pussy Riot jailed, which brought together a lot of female musicians and promoted female visibility in music, politics… Things do seem to be evolving in the industry a bit…
HAYLEY: Well, the biggest example we've experienced was Laneway Festival actually – it was all headlined by female-fronted acts: Lorde, Haim, us, Chvrches, Cloud Control, Daughter, lots of bands not just with female members but female-fronted, or all-female bands like Savages. The biggest thing that struck me wasn't that they were 'allowed' to be on there, but that the festival didn't mind heaps of female-fronted bands in a row headlining the festival.
That's quite a shift isn't it, when you look at festival trends…
HAYLEY: Yeah, because normally festivals avoid it…
SAM: Yeah, and it was the most successful festival in Australia over summer for that genre. So, I think times are changing. I guess there was never a problem with doing that anyway, but it was great to see that it occurred and nobody even talked about it, really. They were just like, "This is great!"
HAYLEY: Well, people said it was a good thing, but no one was like "Ah!" I guess people used to be afraid that if you have that many female acts in a row, the audience would be like, "Oh, enough, enough!" or something. We've even been worried about that before – I remember worrying that if we get two female-fronted support bands, people might get sick of the female vocals. But then I'm like, "No they don't! What are you talking about?" It's just this old fear that people have.
Maybe audiences are adjusting now to seeing a band as a band. I mean HAIM are loved by a lot of people, they're not restricted to only female fans or male fans…
SAM: You know, they're just a good rock band. Gender is a secondary thing with them.
HAYLEY: And the fact is that a lot of female-fronted bands are the cool bands at the moment and are doing a lot of cool stuff.
And SAVAGES – a London band. Your impression of them?
SAM: I really, really like them, they're an amazing band.
HAYLEY: They're really good. It's very cool in London for a reason. I find it a little bit elitist for my liking, but I think they're amazing at what they do. There's a kind of genius to having a really set vision and knowing what you're about. It's really coherent.
SAM: They're really good musicians. It's really arty and really serious. I just find the music a bit too angular – but it's just a music thing. I like folky country stuff…
Things do seem to be changing a bit for female-led bands. It's great timing maybe in terms of you bringing out an album now and seeing how the UK receives you in that sense. Also, the industry seems to be having to focus less on the nationality of bands…
HAYLEY: I think that's true. I think there's still a little bit of a stigma in London about being Australian, and particularly about being big in Australia, but that's just a certain kind of press. Everywhere else, they're just like, "Ah, you're Australian" or they don't even comment.
SAM: It's a bit like the female thing…
HAYLEY: Yeah, it's like, "Why would you even think about it…?"
SAM: Yeah, there are so many bands. Australian bands including small ones are playing around the world. It seems flights are cheaper and labels are really keen to interact with international bands. Back before the age of the Internet, labels wouldn't invest in a band from overseas, because they were worried how they can get them into the UK and do tours, play and do press. But now you can be in Australia and do interviews. It's great…
The Internet has been a real game-changer…
SAM: Yeah, it's just totally opened everything up…
[previous]
[/tab]
[/tabs]