Louisa Osborn and Chris Mulligan make up THE WITCH HUNT, what we believe to be one of the most exciting new bands to emerge from the UK in recent years. Now having acquired drummer Ste Anderson, the band's sound is bursting at the seams, allowing singer Louisa to be unleashed as the front lady whose haunting vocals are piercing to the soul and whose words won't let you leave the venue without feeling just a little bit rattled.
We featured the band on our REVOLUTION Pussy Riot support festival lineup last August, and they impressed at Kraak, gathering new followers in Manchester. The last time we saw them, they were smashing the stage at Leeds' Wharf Chambers, a cute little venue with very friendly staff. Seeing them with live drums for the first time, we were stunned by the incredible sound off the stage, Louisa oozing charisma, causing even the headliner Vuvuvultures to literally jaw-drop and swiftly go buy a Witch Hunt EP.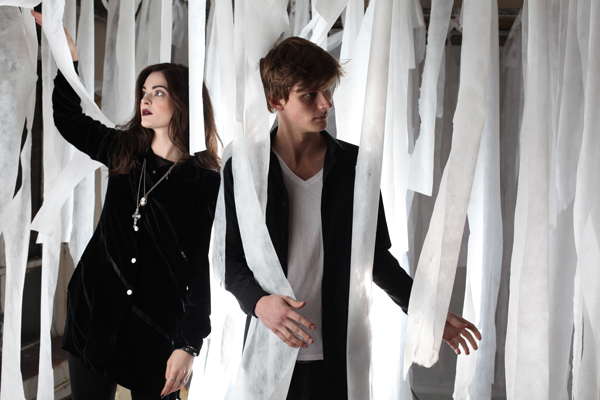 Tonight, at the legendary Brudenell Social Club, the band are on the bill for the British Wildlife Festival whose love of tea and cake we have great respect for – some rather delicious-looking carrot cake and cupcakes greet us upon entry (if only all festivals did this…). We know that everyone's in for a treat, but we're also keen to see how the set is evolving, with the band sprinkling in a new song.
Focused and setting up politely, they get down to it. Opening with Wide and Laughing, a song with attitude and swagger, playfully pulling us into a slight false sense of security, we're then soon tossed into the much darker Chairman, which sets the tone for the rest of the set ("You keep bringing me down, my eyes can't see no more").
Army Man is a storming track, seeing Louisa put aside the guitar for drumsticks, the hair is in full swinging flow now, and all the intensity and aggression is coming forth in her vocals and performance, marking her as a force to be reckoned with on the stage. The sassy guitar intro to set closer Can You Believe It? leads to Louisa threatening the listener ("Now I want to break you, I want to hurt you / I'd like to scare you into showing that there's really nothing there") and the energy is getting so crazy, you just want it all to carry on. Louisa's definitely evolving the diva in her, at one point collapsing in an impassioned response onstage, singing at full belt, lying on the floor. The set closes with Chris and Ste playing out as Louisa exits through the famed Brudenell stage exit door, with the mood at its high drama pinnacle.
The Witch Hunt are brilliant at melding soft lyrical tones with rolling intense sounds, and we look forward to monitoring their progression. * Photos provided by The Witch Hunt (What Emily Wears)
* THE WITCH HUNT will co-headline with London band DELOOZE on 9 April 2014 at The Castle, Manchester – a special lineup promoted by SHATTERJAPAN and RED BALLOON MUSIC to preview the 2-day launch of the new ECLECTICA Project (taking place 2-3 August at Kraak Manchester). Buy advance tickets HERE >>