Next up at HOSTESS CLUB WEEKENDER was Argentina's JUANA MOLINA, who took it down a notch with her dreamy vocals and chilled out electro-rock stylings.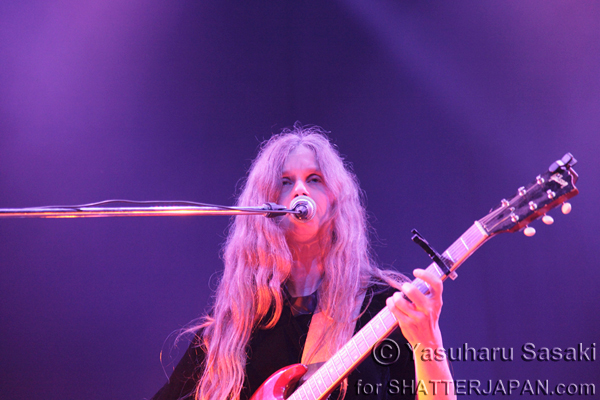 The last time Molina played in Tokyo was in 2011 where she headlined a show at the beautiful Tokyo International Forum Hall. This time around, her fans were treated to some long-awaited new material. Of her ten-track setlist on Sunday, only three songs were not to be found on her latest album, Wed 21, the first record she's put out in five years. She opened with Wed 21 and Eras, the first two tracks from this most recent record, and set audience members grooving in time to her delicate melodies.
The 51-year-old has had an incredibly successful music career, touring extensively worldwide and collaborating with artists from all over. For the most part, Molina, a self-confessed control freak, writes and records all of her tracks on her own, and as such it sometimes proves difficult for her to translate that into a live setting, however she succeeded in putting together a really compelling and tight live set. Molina's solo tracks saw her looping drums, vocals and guitar into intricate and complicated melodies, whilst for others such as the newly released single Eras she had the help of touring musicians for a more conventional live sound.
Molina was originally a hugely successful comedian and actress in Argentina, but gave up this career in the pursuit of her musical passions in 1996, when she recorded her first studio album Rara. This was met with generous reviews and commercial success, and saw Molina's musical efforts being deservedly rewarded. From that point, she proceeded to release five more albums, all of which did incredibly well, particularly Segundo and Tres Cosas. On Sunday, Molina closed her heartfelt set with Final Feliz – or Happy Ending – and she is now set to play Lollapalooza in Argentina on April 1st 2014.