The third Scottish act for the day and headliner for HOSTESS CLUB WEEKEND on Saturday, MOGWAI drew a jam-packed crowd to Studio Coast in Tokyo.
Formed in 1995 by Stuart Braithwaite, John Cummings, Barry Burns, Dominic Aitchison and Martin Bulloch, Mogwai quickly proceeded to establish themselves as absolute giants in the realm of post-rock. Since their conception, they've released eight studio albums and eleven EPs, the latest of which is the soundtrack to the brilliant French series Les Revenants (The Returned). The group are renowned for their sprawling landscapes of largely instrumental music, bursting with moving verses and mind-blowing crescendos.
Mogwai played a huge set of 12 tracks on Saturday plus a 3-song encore, opening with Heard About You Last Night from Rave Tapes, and closing the show with one of their heavier tracks, We're No Here, from 2006 album Mr. Beast.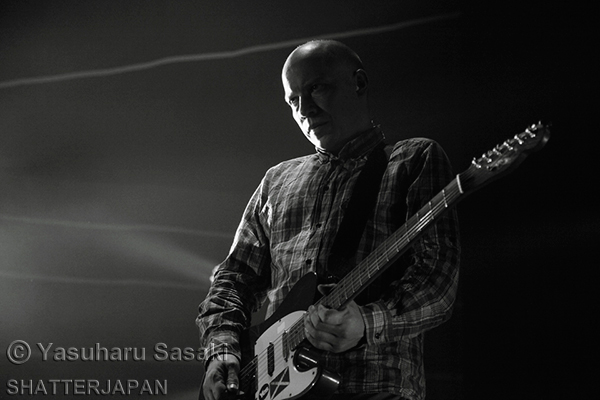 The audience was a tightly packed sea of ebbing bodies and bobbing heads, the audience collectively embracing the powerful waves of sound the band blasted upon them and responding with gracious applause. Lead vocalist Braithwaite made a point to thank the audience in Japanese and English after every single track, and the whole band seemed humble and appreciative of their chance to play in Tokyo.
Bands with a lifespan like theirs (going on 20 years now) often sport a pretty hodgepodge history of members joining and leaving, however Mogwai's member lineup is surprisingly consistent: Stuart, Dominic, Martin and John all sticking around since 1995 and Barry joining just a few years later.
They've just released their first album in three years, Rave Tapes, in January this year and it has been met with the open arms and ears of fans, receiving critical praise around the world and peaking at number 10 in the UK album charts. Mogwai will now go on to do a comprehensive tour of Europe before proceeding to the US in April.