A TALE OF SAMURAI COOKING – A TRUE LOVE STORY
There was quite the influx of food-related films at this year's TOKYO INTERNATIONAL FILM FESTIVAL, A Tale of Samurai Cooking (Bushi-no Kondate) joining the likes of Taiwan's 27˚C – Loaf Rocks and Zone Pro Site: The Moveable Feast, in the realm of cuisine-focused cinema. This Japanese contribution is by no means overshadowed by its Taiwanese rivals, offering its own powerful take on the role food has played in history. Directed by Yuzo Asahara, this film offers a stunning depiction of Japan in the Edo period, intertwined with a beautiful, albeit unlikely love story. A Tale of Samurai Cooking portrays not only breathtaking landscapes and architecture, but most exquisitely the cuisine, the absolutely meticulous presentation of food for the domain's leaders leaving viewers in mouth-watering awe.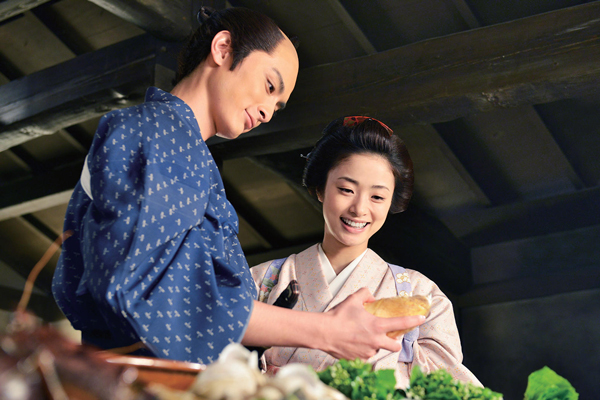 The film is centred around the beautiful Oharu, played by Aya Ueto, a headstrong, loyal young woman, as well as the prestigious samurai chefs of the Edo Period, in particular those catering for the Kaga Domain. When Oharu's incredible cooking skills are picked up on by famed visiting samurai chef Dennai Funaki (Toshiyuki Nishida) he insists on the young woman marrying his son Yasunobu (Kengo Kora). Oharu is at first disinclined to accept this proposal, her first marriage failing due to her strong will and outspoken nature. She eventually accepts however, moving in with her new family, and eventually falling in love with Yasunobu despite his evident disdain for her. Oharu soon realises her husband is a truly terrible chef, and does all in her power to help him become a master like his father. Her loyalty for him is made clear when, upon learning that Yasunobu intends to assassinate the current Kaga domain leader, she steals his swords and flees into the woods in order to hinder him. Her desperate act of love is not appreciated by her husband who comes sickeningly close to cutting off her head, thankfully stopped by Yasunobu's mother who viciously berates him for his behaviour.
The effect Oharu has had on her new family becomes evident when Yasunobu and his father are chosen to create a spectacular feast for the domain's leaders. With her help, they succeed in impressing the most important people in the Kaga Domain, and bring a much coveted honour to their family. When Yasunobu returns home to bestow the good news, he learns that Oharu has left, leaving only a note saying that her duty to help Yasunobu has been fulfilled, and that he should have a wife he truly loves. She makes her new home with a group of women living in a beach town, and it's here that Yasunobu appears after weeks of searching for her, finally declaring his love for her and begging her to come back.
This film is wonderfully executed and completely engaging, maintaining a perfect balance between the focus on cuisine and the story of Yasunobu and Oharu's lives. It effectively combines drama, romance and a twist of humour into a powerful frame for the spectacular food of the Edo Period. A Tale of Samurai Cooking will leave the audiences with a warm sense of contentment, as well as a burning desire to rush out for a traditional Japanese meal immediately after viewing.
Chung Mong-hong's latest film Soul is a sprawling horror flick set in the misty mountains of Taiwan which delves into the realm of spiritual possession. The strongest element of Soul is the cinematography, thanks to Nagao Nakashima. Visually this film is stunning, every shot in itself a spectacular and perfectly constructed image, making it difficult not to take mental screen captures every ten seconds. Despite being classified as horror (warranted for the extremely graphic, albeit beautiful murder scenes), Soul has charming elements of dark humour weaved into the script which are brilliantly executed by a talented cast.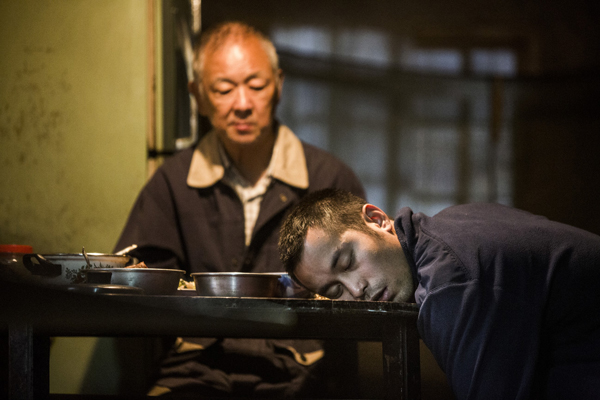 It begins with main character A-Chuan (Joseph Chang) collapsing in the fish restaurant where he works. After this episode he seems to have lost his mind, and is sent to his father Wang's house (played by Jimmy Wong) to recover. It's at this point A-Chuan becomes seemingly lucid, attacking and killing his sister Yun (Chen Shiang-chyi). Upon discovering his daughter's body, Wang demands to know what possessed his son to do such a thing, to which A-Chuan calmly responds, "I saw this body was empty, so I moved in."
Wang is disturbingly calm and immediately works to cover up the crime and protect his son, an attempt not helped by continual interference from A-Chuan's somewhat obnoxious former classmate, now turned police officer, Wu (Liang He-chun). Locking A-Chuan in the garden shed at the top of the mountain where he farms orchids, Wang continues to live his life as normal, apparently waiting for A-Chuan to snap out of his current state. More unwanted guests come sniffing around the mountain investigating Yun's disappearance, and Wang stops at nothing to keep his son safe, ultimately sacrificing his own freedom to do this.
The ambiguity of Soul's plot is unfortunately tedious to the point of causing disinterest, which is especially disappointing since the characters, dialogue and setting are all spot on. The film is however successful in worming its way into your mind to simmer away for later, redeemed by truly compelling performances and gorgeous, thought-provoking cinematography. Most will hang on to find out the truth behind A-Chuan's behaviour and the fates of himself and his father. The answer is never made clear, the film declining to address whether or not A-Chuan is suffering a mental disorder or is truly possessed by some supernatural spirit, however the unimportance of this omission to his father makes a powerful statement about the bonds of family.