ZONE PRO SITE – THE MOVEABLE FEAST
Topping the Taiwanese box office in 2013, beating Kick-Ass 2 and Riddick among others, Zone Pro Site – The Moveable Feast sees the revival of forgotten cuisine and banquets from Taiwan brought about by absolutely delightful characters and impeccably executed dialogue. It's been some 16 years since Taiwanese Director Chen Yu-hsun released his full-length film Love Go Go, and the 51-year old has certainly made a comeback with this wonderfully vivid, laugh-out-loud comedy. Yet another food-focused film in this year's festival, Zone Pro Site is fresh, full of energy and beautifully showcases the traditional ban-doh style feasts once found in Taiwan.
The film has been enjoying positive reviews and success at the box office, much to Chen's surprise, who although being very happy with the finished product, didn't expect the film to be such a hit.
The quirky, self-obsessed Hsiao Wan (played by Kim Hsia) is a failed model and the daughter of a famed master chef who finds herself tremendously in debt. In order to recover her losses, she must join forces with her wonderfully eccentric mother (Lin Mei-hsiu) to enter a prestigious ban-doh banquet competition, which offers a considerable cash prize for first place. They're joined along the way by the handsome "Food Doctor" and Wan's love interest Ah-hai, played by Yo Yang, as well as the two loony men who are demanding the debt repayment, to form a hodgepodge team of culinary experts. Wan is also helped by an assortment of people she meets along the way, including "Chef Silly Mortal," a previously revered chef who now hides away in train tunnels cooking amazing feasts for the homeless. With all of the knowledge she gains on her adventures to the grand finals of the competition, she is able to impress the judges and fulfil her dream to make her father proud.
Zone Pro Site's main theme is that of family values, and the focus on this incredible feast and the way it brings people together only serves to bring back memories of eating delicious meals with family, a characteristic that has lead the film to such popularity. The characters are all so unique and endearing, perfectly acted by a truly talented cast. The humour, although no doubt cheesy, never really comes off that way, it fits in so well with the very nature of the film to seem almost subtle. This is a truly joyous film that not only leaves you hungry, but also eager to watch again and again.
We attended a Q&A with the film's directer Chen Yu-hsun, who was accompanied by the two producers Lee Lieh and Yeh Jufeng.
Chen was asked what he's been doing career-wise the past 16 years, to which he replied, "The last time I was here in Tokyo was indeed 16 years ago, and I participated in the Tokyo International Film Festival with my film Love Go Go. After that, I returned to Taiwan, and I was thinking of what kind of theme to do next, and that was about the same time that Taiwan's film market was not in a very good condition. So I was thinking of what to do, and after maybe 1 or 2 years without having a good idea, I started to realise I was running out of money, so I then became a CM director, and actually I'm quite popular as a CM director. Years have passed, I've been doing it for over ten years now and I thought well I'm not young anymore, so why don't I make another film, so here it is!"
The past ten years, Chen has been directing commercials, and he commented on the effect his experience has had on his full-length filmmaking. "Yes, I've been a CM director for a long time, so I've been able to build up my technique quite a lot. My CMs are also quite joyous so it's been really great practice for making comedy, but I think I still have a lot of my inner self that needs to come out, but if I do it too much then the Taiwan audience might be too surprised, so I'll have to keep it at the pace it is right now."
In the film, there is a massive mural depicting the story of a huge banquet, as Chen explains, "The story is about a chef who creates a banquet for guests, and takes his apprentice to a house where a celebration is to be held. They all work together to create banquet meals for this celebration. The paintings are like a reminiscence of the history of the banquet celebration and dishes. In the past, the owner who wants to celebrate, and the chef and the guests would all work together to cooperate to create the banquet. So in a way this was a way to exchange different human emotions and feelings with each other. But nowadays, the owner of the house only needs to make one phone call which can be done through catering services, so the situation has changed quite a lot. There are many paintings on the wall in Taiwan, there are some wonderful paintings and graffiti which I think is also a part of the Taiwanese culture that you can see through that."
The film talks about having particular "Spirit Songs" to signify different periods in one's life. When asked about his own spirit songs and whether they were reflected in the film, Chen replied, "I have had many theme songs depending on my age, for example the music you hear when the Ghost Head Chef appears is the music that was my theme song when I was a teenager, and Sakura is my theme song right now."
To Live and Die In Ordos, directed by Ning Ying, is a drama recreating and celebrating the life and career of Mongolian city Ordos' Police Chief Hao Wanzhong (played by Wang Jingchun), who passed away at the age of 41 whilst at the peak of his career. The film centres around Wanzhong's achievements as Police Chief, as well as his struggle to balance his work and personal life from the perspective of the people he was closest to, compiled by a journalist who is sent to write an article about Wangzhong's career after his death.  This journalist retraces the life of Hao Wanzhong by reading his diaries (he kept 68 over 14 years) and tracking down the people who knew him best and interviewing them, which included his older brother, his wife, his personal driver and best friend, his workmates and his doctor. Within Wanzhong's work life there are constant struggles, the headstrong character attempting to stem the corruption of the police department and solve every case that comes his way, as a result neglecting his family, in the pursuit of justice.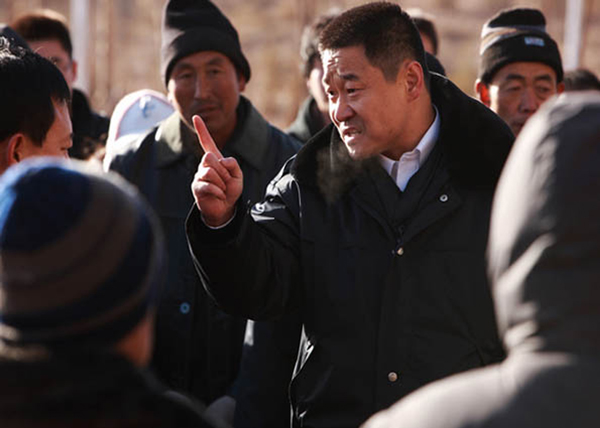 The main case with which Wanzhong sees success was his involvement with a truckers strike that saw the shipment of coal to all parts of the country at a standstill. Despite direct orders from his boss to ignore the situation, brushing it off as a labour issue, Wanzhong persists in his involvement, eventually arresting the ringleaders of the strike and allowing coal to be transported to areas of the country at that time suffering snowstorms. It's after this success that Wanzhong collapses at a routine fitness program, dying of a massive heart attack.
One highlight of the film is the way that the flashbacks, as recounted by the interviewees, seamlessly integrate with the present moment. They beautifully intertwine with the current scene and the people recalling the stories in a delicate and effective way – it's really wonderfully shot. The main characters in the film all bear striking resemblances to the real people that they portray, as shown in the credits when actual stock photos from Wanzhong's life are shown next to the actors pictures. While it certainly isn't an unbiased film (it seems to brush over the complicated underbellies of the cases Wanzhong is solving, and only every paints him in a very positive light), Wang Jingchun's performance is convincing, albeit a little flat and unemotional. It was certainly strong enough to earn him the prize for Best Actor at Tokyo TIFF festival, a great honour for him and wonderful recognition for the film.
We attended a Q&A with director Ning Ying and main actor Wang Jingchun, where they answered the audience members' questions.
When Ying was asked whether or not the film could be shown in China as is, or if it would need to be edited, she replied, "This film was set in Mongolia, in Ordos. The main character is head of police there. Through this film, yes we're depicting ecological issues and social issues in China, but the main focus was on this character. Through this film, I could depict different issues in China. Because of this film, I was able to come to Tokyo International Film Festival. What does it mean? I think it means that now China is quite opened up. I think it's possible to screen it in China, but for that I really need help from the media. So far, it hasn't been screened in China yet – this was the world premiere on the 19th (October) at TIFF."
Sharing with the audience her ideas for using different shooting techniques and camerawork in the film, Ying commented, "This story itself has a lot of potential, including camerawork, there (were) a lot of challenges and we could try different things. It was important that we try modern methods, so we were really careful when thinking about what kind of camera work would be suitable for each sequence… We were using different camerawork to portray different scenes and characters. We were really preparing a lot to come up with the basic style of this film… our main focus was to use our own camerawork coming from Hong Kong. Also we were using the suspenseful camerawork method often found in the United States that has a lot of drama to it."
When asked whether the story was based on the actual article written by the original journalist, or if some fiction was added to it, Ying said, "In the beginning of this project, the scriptwriter did a lot of research on this main character. She interviewed almost everybody who knew him. At the same time, we did a lot of interviews at the police station too, when we were writing the script. We did a lot of preparation. In the process of our research, we came to know that there is an article written by the journalist, but this story is not based on his article, rather it's based on our own extensive research and interviews."
Actor Wang Jingchun was asked whether it was his intention to really recreate the person he was playing, to which he replied, "Previously I've only performed fictional characters, but this time it was a real person, so it was different, and it was a tough job to do that. In developing and playing this character, I tried to look like him physically. I put on 10 kilos in one month, eating a lot of food. Also language-wise, he was speaking a different dialect (originating) from Ordos, so I was learning to use that dialect too. I was approaching him from the perspective of appearance and the language, trying to be as similar as possible. But what was most important was maybe the research I did with the director. We met a lot of people and saw a lot of different videos. It was a process to get to know him. I think we managed to get into his world. His characteristics are well portrayed in this film – he hated evil, and justice was very important to him. That left a very strong impression on me when doing the research. His regret was the case that he couldn't resolve, and also the fact that he couldn't spend much time with his family. He couldn't do what he should have done. I was moved to learn those things, he passed away at the young age of 41 and it made me feel very sorry that he passed away so young."
Ying was asked whether the film and Wanzhong's absolute dedication to his job is a reflection of the social background of China, to which she replied, "It's quite a difficult question to answer. The social background is not just showing how many problems China has now, it's more talking about how difficult it is for China to move ahead, to continue this development and to work towards democracy and a more equal society – it's very difficult. The truck drivers' strike scene is very complicated if you want to understand the situation. In the beginning when he got the job, the civil government representative said, 'I want you to resolve this strike problem that's been going on for four years.' So he got permission from the local government, but at the same time he has his own boss in the police system. He did a lot of research and decided he wanted to interfere as the police force. But then he was denied by his boss, who said no, this is a labour issue, the police force shouldn't interfere. So, you can see that in China, there is a discussion in place, it's a labour issue or it's a mafia issue. It's like a hundred years ago in the States, people trying to organise themselves into human rights or raising salaries etc. So then he gave up, he wrote in his diary that night that he has to give up. Then he received a phone call from the civil government saying that in the South there's an ice storm, and that due to the trucker strike people were freezing to death, unable to get any coal. We must send out 500 tonnes of coal every day. This is a huge country, there's always something happened. He then took the situation (into his own hands) and decided to follow the original plan, saying that controlling the current situation is more important than anything else, to resolve the truckers' strike problem. It's difficult to really summarise the complexity of the situation. "
A Street in Palermo involves a comical standoff between two incredibly headstrong women, neither of whom are willing to give in, which evolves into a thought-provoking if not over-the-top finale. It's a film with strong and compelling female characters, and Director Emma Dante actually plays Rosa, one of the women involved in the clash. Elena Cotta also puts on a wonderfully aggressive performance as Rosa's arch enemy.
The film opens with a contemplative scene involving an old woman (who we later learn is named Samira) visiting a cemetery, feeding the stray dogs and sprawling herself out upon a grave. We're then taken to the backseat of a car with two young women named Rosa and Clara (Dante and Alba Rohrwacher) arguing about having to return to their hometown for a wedding. This is followed by a scene showing some burly men returning to their family on the shore from a fishing boat. These three different story lines soon amalgamate into the heart of the story: The old woman Samira picks up her family from the beach in her car and drives them home along a narrow street, at which point they come face to face with Rosa and Clara in their car. Both parties believe they are in the right and that the other should back up and let them through, however both women proceed into a fierce stare down, which crescendos into beeping horns, giving each other the finger and generally causing a ruckus. This noise draws out everyone in the entire street, escalating the situation into a full-blown riot. After a neighbour is stabbed with a broken bottle, all of the spectators flee, leaving only Rosa and Samira to their showdown. The standoff scenes make a point to highlight the determination of two women who deal with heavy issues in their own personal lives, both of whom seem to believe that this victory would mean to them a victory over all of their tribulations.
After a very impressive opening, the film somehow loses its way, dipping into a lull in the middle, and although it was a 2pm screening, snores could be heard in the audience. In the end, it manages to pick up somewhat, as finally, after hours and hours of waiting for the other to give up, it becomes apparent that Samira has died at the wheel overnight. Upon this discovery, Rosa finally backs up her car to drive away, which causes Samira's car to roll uncontrollably down the street. Despite the disappointing weak segment in the middle of the film, A Street In Palermo is redeemed by some very memorable characters, emotional insights into the lives of each woman, and truly wild and hilarious scenes in that narrow street of Palermo.
<< Back to Day 6: Behind the Candelabra <<      >> Day 7: Jodorowsky's Dune >>