The 26th TOKYO INTERNATIONAL FILM FESTIVAL got off to a real bang at the trendy Roppongi Hills with the trademark eco-friendly green carpet rolled out again for guests arriving from all parts of the world. Particular excitement came with the arrival of TOM HANKS and British director PAUL GREENGRASS promoting festival opening film CAPTAIN PHILLIPS, and SOFIA COPPOLA accompanied by her prolific director father FRANCIS FORD COPPOLA and mother ELEANOR COPPOLA to celebrate her latest buzz movie BLING RING. The stellar lineup of arriving talent from Japan, Asia and beyond confirmed that TIFF Tokyo is a key festival for Japan, but with it undergoing restructuring this year and standing in the shadows of the grand BUSAN INTERNATIONAL FESTIVAL which takes place in South Korea shortly before TIFF, we're curious to see how the festival is evolving.
First on the carpet was CHIAKI KURIYAMA, the "Festival Muse" (LOVE this idea). For those who don't remember, Kuriyama played the feisty Takako Chigusa in 2000's BATTLE ROYALE (the one who knifes sleazeball Niida to death), only to be reinvented in Tarantino's KILL BILL as bloodthirsty schoolgirl killer Gogo Yubari (the one with the ball and chain). Kuriyama's beauty was highlighted all the more by her simple black number, and she seemed at ease posing for the cameras together with highly-controversial returning Prime Minister Shinzo Abe who made a surprise appearance at the festival, and who is generally regarded as representing the old-guard nationalistic and sexist faction of political Japan, but who is now promising to raise Japan off its knees economically-speaking.
THE BLING RING's Sofia Coppola appeared on the carpet to a rapturous response from the crowd. Much loved in the country after her MILKFED brand launch, followed by her LOST IN TRANSLATION and MARIE ANTOINETTE success, the elegant Coppola demonstrated her simple edgy fashion style with her classy 2-piece trouser/top combination, and smiled with proud mother and father as the family soaked up the spectacle together.
The crowd's attention was suddenly diverted by the arrival of American legend TOM HANKS. Press madly scrabbled to get an interview with the star. Taking a breather to pose with PAUL GREENGRASS for photos, they shared a joke here and there.
Joining Hanks and Greengrass on the carpet, director KOKI MITANI and actor KOJI YAKUSHO (SHALL WE DANCE?) of closing film THE KIYOSU CONFERENCE (Kiyosu Kaigi) made their way up the carpet. Due to their combined immense popularity in Japan, it took the men a long while to arrive at the photo point, fans still screaming out in support.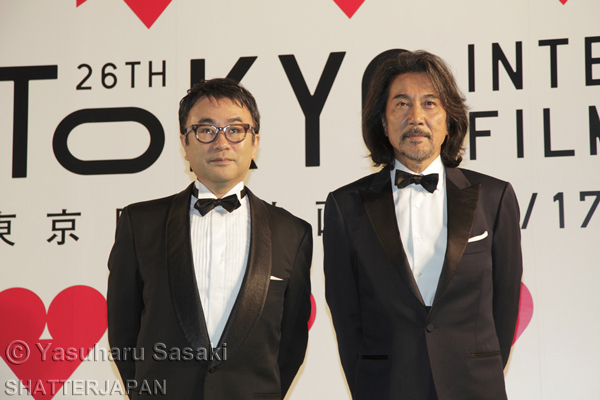 The carpet would not have been complete without the presence of the International Competition Jury, this year headed by leading Chinese director CHEN KAIGE (FAREWELL MY CONCUBINE). So thrilled was he to meet the crowds, that he spent many moments with them taking fan photos and chattering. Fellow jury members include UK-born Australian national producer CHRIS BROWN (MONA LISA, THE RAILWAY MAN), Korean actress MOON SO-RI (OASIS, IN ANOTHER COUNTRY), and American writer-director CHRIS WEITZ (ABOUT A BOY, A BETTER LIFE), with actress SHINOBU TERAJIMA (CATERPILLAR) this year representing the Japanese contingency.
As the celebs proceeded to the Opening Ceremony and CAPTAIN PHILLIPS screening, we headed to the International Jury Press Conference to hear what the jury had to say about the upcoming festival. (As part of the new restructuring, we can't access the opening movie and many public screenings due to an unexplained change to the press system that is a cause of major frustration to many.)
Asked what they will be looking for in the 15 films they're judging, CHRIS BROWN replied, "There are so many films to see – it's like we're presented with the most incredible feast. One hopes that they will find inspiration and stimulation – that's all that one can hope for in the incredible banquet we're about to partake in." CHRIS WEITZ agreed, "The variety of films chosen for competition is extraordinary. Personally, I'm looking for something that will remind me once again why I love the cinema so much."
SHINOBU TERAJIMA responded, "As an actress, I'm really looking at the way the acting is done. There are times when I watch a film and I think to myself, 'You know what, if I had that role I'd do a better job.' In that case I think the film is not a great film. When I see a film and I see the actor or actress and I feel a twinge of jealousy, that's a sign they're doing a good job. When I saw Moon So-ri act in Oasis, I felt jealous."
MOON SO-RI humbly replied that the feeling was reciprocated, and responded to the question, "I look for whatever touches my heart, which means that the person who is acting is able to put on a performance that is really full of heart and emotion."
Asked about the films made by new and young directors, jury head CHEN KAIGE responded, "I believe that usually with young directors, there's no pressure – it's totally starting something new. When I started making films when I was 30, my first film was Yellow Earth, and at the time I was just beginning – no pressure, I just wanted to make something and that was the only feeling that I had: passion to make something. Once you start making a lot of films and you have these expectations, the next thing you feel is pressure. When you are a very young director, you have courage and that's what you really need. If you are able to get that passion and have that purity still in you, you'll be able to make a great film with which you can share your thoughts with the audience."
During their self-introductions, Terajima stated that she feels a lot of pressure being on the jury, but looks forward to an enjoyable week at the festival. Chen Kaige however reasoned, "I feel the pressure is more on the media today rather than myself, because depending on how the media writes about the films, that determines the message that will be sent to the world. The responsibility is much greater on the shoulders of the media than on mine."
The jury will be seeing and judging a wide array of films over the next week at Tokyo International Film Festival, the results of which will be announced at the award ceremony on Friday 25 October.