TOKYO INTERNATIONAL FILM FESTIVAL otherwise affectionately known as TIFF (not to be confused with Toronto TIFF) celebrated its 25th year in October 2012.
What I love about this annual event is not only the incredible commitment with which it is run and the quality and rich selection of films, but more than anything it's the warm atmosphere and community spirit that fills the traditionally austere Roppongi Hills during the festival. Staff are courteous and welcoming and it remains one of the most positive experiences I've ever had in the country.
To celebrate its quarter century, TIFF presents a smashout opening day, screening two world premieres: JAPAN IN A DAY – the Ridley Scott executive-produced montage of crowdsourced video shot 1 year following the 2011 earthquake, and 3D extravaganza CIRQUE DU SOLEIL: WORLDS AWAY – the official opening film.
And how can we forget the garish yet ultimately endearing green carpet made from pet bottles and reminding Tokyo that green is clean? As the rain holds off, it's a moving scene to witness a whole mass of cast and production crew from JAPAN IN A DAY move along the carpet, waving flags, beaming from ear to ear – some of these people had lost the closest people to them within a matter of minutes, yet here they are celebrating the film and reminding us that life is indeed short and the moments must be cherished.
Onwards to Toho cinemas, where I can watch on the massive screen the lengthy carpet spectacle and backstage interviews, all from the comfort of my plush seat. For the most part jetlagged and barely in the city for more than a few hours, the foreign filmmakers say they already love Tokyo and the festival.
The CIRQUE DU SOLEIL: WORLDS AWAY cast brighten up the stiff proceedings, as they saunter down the carpet striking incredible acrobatic poses, in the most beautifully crafted costuming, and star Erica Linz in a giant upside-down parasol. It's wonderful to see such a strong international creative presence, and they certainly know how to bring it.
Once we finally get to the live streaming of the opening ceremony, we're ready for a strong tea and some excitement. After we're reminded that the festival believes that film is full of power (here, here), we're treated to some exclusive SKYFALL footage. We're then subjected to speech after speech, including one by METI minister Yukio Edano. It's all good information and the height of courtesy, but you can almost hear the huge sigh of relief from the audience when the international competition jury, headed by the inimitable Roger Corman, is introduced onstage.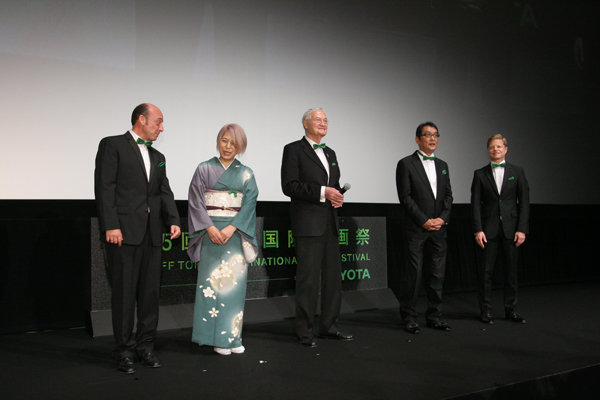 The production crew and Erica Linz of CIRQUE DU SOLEIL then take to the stage, with an impassioned video intro from executive producer JAMES CAMERON, who talks about his longstanding relationship with TIFF (TITANIC was the official opening 15 years earlier) and how Cirque du Soleil is "the ultimate entertainment" – ok, so now this is worryingly sounding like another "Avatar" – and director Adamson praises Cirque du Soleil as "a world of dreams, a world where anything is possible." The filmmakers and Erica migrate from the official opening (industry) theatre into our much less stuffy (public) theatre, where the crowds go wild and Erica seems genuinely thrilled to wave to hardcore fans. After we hear how footage was taken from 7 separate Las Vegas shows, and Erica talks about her experience driving the parasol up the green carpet, they bound off the stage and I'm excited to see some action.
CIRQUE DU SOLEIL: WORLDS AWAY is visually stunning from start to finish, but I'd argue that the first half is far more aesthetically gorgeous than towards the end. And the storyline is incredibly weak. It's a brave attempt to pull together footage from so many shows and attempt to create a story that works, but I was hoping that they would come up with something a bit more interesting than a man and woman getting together. The first part is so beautiful that it certainly makes you immediately want to go and see Cirque du Soleil live. It's such an amazing combination of talents and passions that it's hard not to love the performers but the film is much less loveable, sadly. And I would have loved it more without quite as much of The Beatles which of sure will help bring it some popularity especially in Japan, but it was too much and felt like gap-filling. It would be a much better movie if the filmmakers went away and did a re-edit, changed the concept, sold it as a documented compilation rather than a story – it was marketed wrong. All in all, it is a fun opening film, but quite disappointing if you were hoping for more cohesion and story.