Day 6 – and the festival is nearing its end, but that doesn't mean that the movie quality is waning. Zhang Yang's FULL CIRCLE is a surprisingly uplifting movie about a group of elderly nursing home residents who run away to attend a televised talent contest. It's rare to see any films these days about the elderly which are well balanced, acted and scripted, but this is one of the few which succeeds in making us smile, cry and empathise.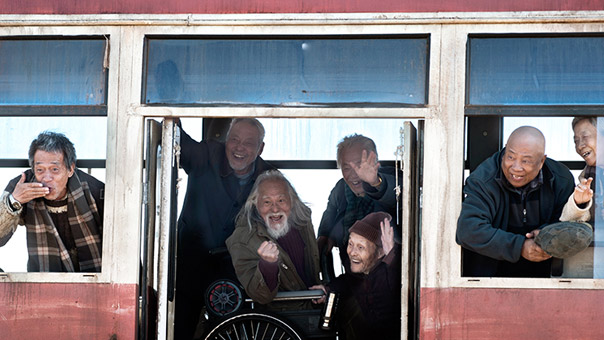 It's been unfairly slated by one particular critic as lacking in the pulling power that he claims a certain Vanessa Redgrave movie otherwise provides – it's a great shame but no surprise that some are not able to see the film from a more Asian perspective or to relate to its sensibility. Or maybe they just have hearts of stone. Either way, this is a movie well worth watching, and best bring the tissues.
The film's vast ensemble cast members staggeringly average 80 years of age and includes the director's own father. It rightfully went on to win a Special Mention award in the Winds of Asia-Middle East section of the festival.
It wouldn't be Tokyo TIFF without at least one silly comedy starring a host of popular Japanese actors, and this year that would be: TUG OF WAR! (Tsuna Hiitchatta!). Starring various actresses from here and there in the Japanese media industry, the film is a sentimental comedy surrounding the camaraderie of a group of women who pull together to bring Oita city back up off its recession-hit knees through the once-Olympic sport of tug-of-war.
Before the public screening, we're greeted to an appearance by the cast, including Mao Inoue who plays the lead Chiaki, a city hall PR staff and eventual team captain. She's supported by prolific actresses Keiko Matsuzaka and Yoko Asaji, also Naomi Nishida, Korean J-pop singer Sonim, former Miss Universe Japan Akiko Chubachi, and Tetsuji Tamayama. Director Nobuo Mizuta also joins, as we're presented with the giant Okinawan tug-of-war rope shipped in specially for the occasion and rumoured to bring good luck. All are dressed to the nines as they talk about their respective roles, Chubachi's role a particular talking point as heavy smoker Saori, the actress saying that she got so good at tugging that she was urged by the national team to join. All women (and man) seemed to enjoy the experience and the rare opportunity to flex muscles and dress down.
Inspired by the true story of the all-women's Oita Cosmo Ladies team who won the world tug-of-war championships 3 times in a row, this is a jaunty movie, not brilliantly made but a welcome bit of fluff to lighten the mood at the often serious Film Festival.
I'll watch anything with Sigourney Weaver in, so RED LIGHTS was on my hit list. Since seeing Weaver in the flesh at 2009 Tokyo TIFF where exclusive AVATAR footage was premiered, I've associated Weaver with the festival. And, my oh my, is she tall and elegant, and still very much emanating the Ripley ballsiness and charm. On the 2009 Green Carpet, as press were screaming "Sigourneeeeeeey!" it took all my self-control not to shout "Ripleeeeeeey!" at the top of my lungs.
Weaver as a psychology professor isn't a giant leap, but with Robert De Niro as a world-famous psychic, it wasn't boding well from the start. Weaver and Cillian Murphy rescue proceedings with their usual intensity, but if you want to see De Niro master the ham, this is the film for you. It's a decent popcorn watch if you like Weaver and Murphy, but it's tedious at points and could have been so much better with a careful re-edit and script overhaul. Disappointing finish from the director of hit movie BURIED.
TIFF is good at pulling superficially independent but commercially friendly films, but they're not necessarily always good value for money. SPRING BREAKERS and SALMON FISHING IN THE YEMEN were good examples of promising yet wasteful additions to the TIFF programme. Buzz has certainly been going round the international circuit for both films, and both star named actors (overrated James Franco in the former, yawn-inducing Ewan McGregor and Emily Blunt in the latter) who were admittedly useful in creating hype. However, as with all hype films, the product is far less impressive than the sell.
In concept they could indeed have easily gripped the viewer, but there's only so much the actors can do with dull scripting, and both were far too dependent on the (lack of) charisma of the lead actors. If I had to choose between which one was the more watchable, I'd say Breakers, simply for its edgy scenario and slick style – it is marginally thought-provoking, although it left me with a sickly feel in the stomach. Yemen is deathly boring but easy on the eyes, so if you want a minimally-offensive popcorn time-filler to fall asleep to, this is the one for you.