It's that time of year again, when Japan's dedicated festival-goers bust out their heavy duty rain boots, foldable chairs and rainbow ponchos and make their way to the slopes of Niigata for the country's biggest music event: FUJI ROCK FESTIVAL.
SHATTERJAPAN caught all of the action last year at the 2013 edition featuring the likes of Bjork, The Cure and NIN, so needless to say we're very excited for the 2014 installment.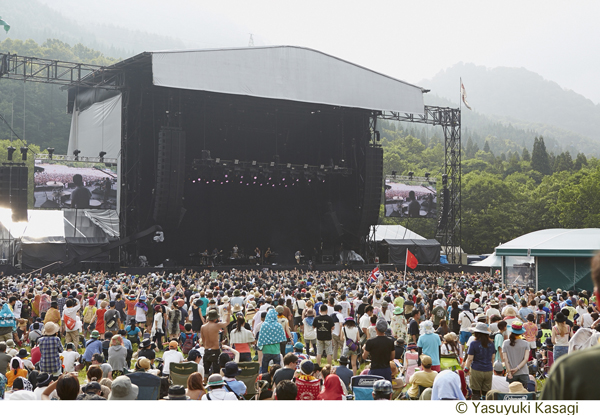 Running for three days (July 25th, 26th and 27th), Fuji Rock Festival consistently delivers enticing lineups, this year boasting headliners FRANZ FERDINAND, ARCADE FIRE, JACK JOHNSON, BASEMENT JAXX, MANIC STREET PREACHERS and OUTKAST, proof the festival can really pull the big names. The entire lineup is impressive, but we're most excited to catch Sweden's sister-duo FIRST AID KIT, California's indie-poppers FOSTER THE PEOPLE plus Japan's own indie rock contributions THE BAND APART as well as OGRE YOU ASSHOLE! Also keep an eye out for coverage from us of SLOWDIVE, WHITE LUNG, ST. VINCENT, LORDE, YOKO ONO PLASTIC ONO BAND and THE PAINS OF BEING PURE AT HEART, among others.
From the inexplicably clean festival site (comprehensive recycle stations are provided for separating chopsticks from plates etc.) to the ethereal mist forever clinging to the surrounding mountains, Fuji Rock is a festival unlike any other. The general feel-good vibes emanating from the throngs of die-hard fans is palpable, and you get a sense of community not so easily found at other festivals. All of this adds up to a perfect combination for enjoying seriously unforgettable live music experience in the middle of the Japanese mountains.