I knew I would love THE BEACHES even before I arrived at LIVERPOOL SOUND CITY 2014. From their interviews and tracks, I already wanted their album, and as I far as I was concerned, this was one of the more exciting bands to join the festival lineup.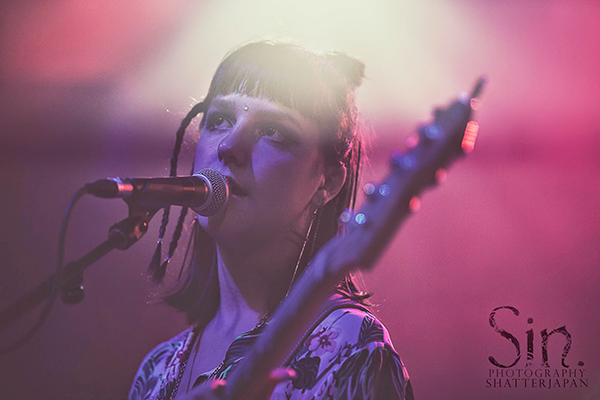 The thing that really clinched it for me was their brilliantly sassy and intelligent Blurred Lines parody video to Absolutely Nothing. Not only are Jordan, Kylie (sister to Jordan), Eliza and Leandra all class musicians, they've got fire in their belly, a sense of humour and great charisma to boot. As one enthusiastic fan stated in the Comments section on YouTube below the video: "YES! This is the future! These girls are here to save Rock'Roll!" and I'm inclined to agree. Nicknamed 'the new Haim,' the band have graciously taken this as a compliment, but they're already proving to be a force to contend with, on their own terms.
Everything that comes out of Toronto these days and makes it across the pond is worth listening to – that's a bit of a wild generalisation, but I've yet to be disappointed. Here at the East Village Arts Club, The Beaches are consummate professionals as they enter the stage like seasoned musicians. You can tell that they have a supportive team around them – they seem completely calm, but a little nervous as to whether the festival crowd will take to this still relatively unknown band on this side of the water.
The venue isn't packed by any means, but as soon as the band rock in and singer Jordan takes to the mic, the crowd know immediately that this is no band to underestimate. The performance is tight, the sound is fantastic, and they showcase themselves perfectly. Jordan has one of those voices that stays with you, and the others are magic to watch and listen to. As the venue fills up, I am already rating this as a one of the best performances of the festival.
Little Pieces is especially impressive, and although feeling too short, the set is a brilliant example of the high standard to which this foursome play. I'd see them again in heartbeat, and I'm fascinated to see how the band will evolve over the next 12 months.
World: you have inherited a remarkable young band who are sure to blaze trails and who not only could smash the industry, but could very well lead the way for a new generation of bold and talented musicians of all genders and backgrounds. Good job. Very good job.
XXX