Brooklyn's alternative rock kings THE NATIONAL were headliners at day two of HOSTESS CLUB WEEKENDER in Tokyo, in the midst of their extensive worldwide tour.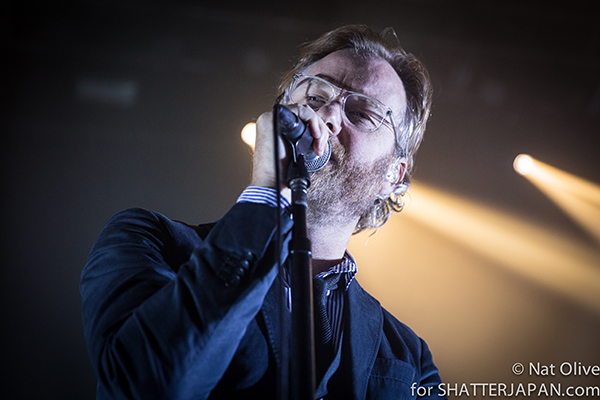 Playing shows since 1999, the group consists of Matt Berninger on vocals, brothers Aaron and Bryce Dessner on guitars and brothers Scott and Bryan Devendorf on bass and drums respectively. The National seem to be the band that can do no wrong, each of their six albums receiving even more critical praise than the one that preceded it, a level of success that has allowed them to headline countless shows, play at some of the world's biggest festivals and curate ALL TOMORROW'S PARTIES in 2012.
On Sunday, they opened with Don't Swallow The Cap from their latest album Trouble Will Find Me, and Berninger appeared almost nervous, ceaselessly pacing the stage and tentatively tapping his clenched fists together before embracing the microphone to belt out those jaw-dropping vocals for which the band has become so renowned. He was also relentlessly swigging away on some wine that a fan gave the band as a gift, his beard and suit making him appear rather like a university professor who'd formed a band with his students.
They closed their set with an unplugged, emotional rendition of Vanderlye Crybaby Geeks, where the audience was encourage to provide the backing vocals, at which point Berninger climbed over the barrier into the crowd to have a more intimate singalong with fans.
The National now have a huge North America tour planned with an impressive array of support acts lined up, including a handful of acts from the weekend such as Daughter and Warpaint.